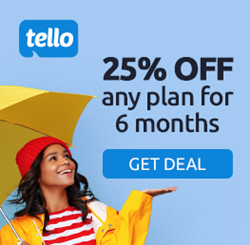 ATLANTA (PRWEB) September 01, 2021
Not all good things need to come to an end. At least not for now. Thinking about all the recent disappointments, such as the summer slowly slipping through their fingers or the vacation gone, Tello helps its customers regain their good mood, by giving them a little more time to save big. They can grab the summer special offer - 25% discount valid for 6 months - by the end of September.
Wake me up when the September savings end? No, not even then…
After joining Tello Mobile and getting one of the bargain plans, there's no need to wake up at the end of September, just like the song says, because the savings last for 6 months, which means huge financial breaks from huge wireless costs, as follows:

$10.5/mo for the Unlimited talk & text + 2 GB, and $14 going forward
$14.3/mo for the Unlimited talk & text + 4 GB, and $19 going forward
$18/mo for the Unlimited talk & text + 6 GB, and $24 going forward
$21.8/mo for the Unlimited talk & text + 8 GB, and $29 going forward
$29.3/mo for the Unlimited everything, and $39 going forward
The promo is valid for new customers & new lines, until September 30. All they need to do is to keep the same plan for the first 6 months to benefit from the discount and pay the regular rate per month going forward.
Same offer, same extra benefits
After joining Tello Mobile, people can choose the amount of minutes & data they need, while unlimited texts are included in every plan, free of charge. Phone plans are as low as $5/mo. and up to $39/mo. Cell phone plans can be upgraded, downgraded, or renewed at any time, for no charge at all. The "no fees whatsoever" policy, outstanding customer service & free calls to over 60 countries included in any plan make Tello stand out from other MVNOs. Other great benefits that are on the house: free tethering, Wi-Fi Calling, unlimited text, voicemail.
Also, Tello boasts an incredible customer support team available 24/7, ready to answer any question and to solve any issue. No wonder this MVNO is rated as 'Excellent' on Trustpilot, a popular review website getting roughly 500,000 genuine testimonials about thousands of businesses each month. On Trustpilot, Tello has a 4.5 rating out of 5.
About Tello
Tello, a mobile carrier launched in 2016 caters to a variety of needs, whether that's a lot of data or a simple plan with a smidgen of MB. The "no fees whatsoever" policy, the flexible plans, and the outstanding 24/7 customer support made Tello the only wireless carrier on the US MVNO market rated as 'Excellent', as a result of over 7,000 unbiased customer reviews on Trustpilot. Tello.com is a KeepCalling brand, a global telecommunications company registered in 2002 in the USA. KeepCalling was listed by Inc 5000 as one of the fastest-growing companies in the USA for 5 consecutive years.