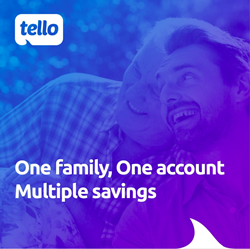 ATLANTA (PRWEB) February 12, 2020
Starting February 12, Tello Mobile will begin rolling out their new Family plans that allow multi-line customers to mix and match data, minutes & text, so that customers can find the perfect phone plan for each family member. Tello remains laser-focused on offering the best budget-friendly wireless solutions and the launch of the new family plan products is just another reiteration of Tello's mission to make overpaying for wireless a thing of the past.
How do customers start a family plan?
Customers can have your family join Tello under the same account. All they have to do is to set up a line for each family member, select the appropriate plan for each, enroll a new device or buy one from Tello, bring their existing number or choose a new one and complete the payment. They can enroll more family members anytime they want by selecting a new line on the checkout page.
How does a Family Plan work?
Customers can add an unlimited number of additional lines, each with their own phone number and Tello plan. Each of these plans can be managed from the Account Dashboard, allowing people to swap phones on the account, upgrade or downgrade a plan, restart on a new billing cycle, port a number to that account, and more. There is no need to have the same address to do so and there is no extra cost per line.
Perfect time to join Tello
The introduction of the Family plans and the super affordable plans Tello has already amazed its customers with making today the perfect moment for people to switch to Tello. The port in process is easy, there are few easy steps:
Create an account on tello.com
Go to Bring your own phone section and enter the ESN/IMEI/MEID – CDMA phones only
If the customer's phone uses a CDMA SIM, they need to enter the SIM number and click 'Check'.
Last porting step: enter the phone number.
After joining the Tello family, people can choose the amount of minutes & data they need and unlimited texts are included in every plan, free of charge. Phone plans are as low as $5/mo. up to $39/mo. Cell phone plans can be upgraded, downgraded, or renewed at any time, for no charge at all. The "no fees whatsoever" policy, outstanding 24/7 customer service & free calls to Canada, Mexico & China included in any plan make Tello stand out from other MVNOs. Other great benefits that are on the house: free tethering, unlimited text, voicemail.