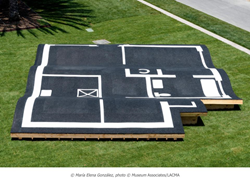 Los Angeles, California (PRWEB) August 03, 2017
Tellus Build announces their installment of artist María Elena González's sculpture, Magic Carpet/Home (2003/2017), is featured in CODAmagazine's latest Interactive Art issue. Published by CODAworx, the magazine showcases the best design and art projects from around the world, highlighting commendable collaborations between artists, designers, and other industry resources.
As an interactive sculpture located on the LACMA grounds, the "magic carpet" often sees 10 or 20 children playing or skateboarding on it. While offering a unique and playful experience, the design itself is based on the fluid yet constant, universal notion of home. The community may enjoy the sculpture in the sunny Southern California climate through October, when the Home—So Different, So Appealing LACMA exhibition ends.
"We are honored to be amongst such dynamic, global illustrations of industry partnerships," says Tellus Build President Jesse Fowler. "Our participatory structure was truly a team effort, with the artist's vision guiding us and the LACMA co-curators organizing the exhibition and coordinating the build."
CODAworx showcases work, facilitates collaboration, and recognizes exemplary projects. It is a worldwide online community comprised of over 30,000 design and art professionals.
About Tellus Design + Build
Tellus Design + Build performs Residential and Commercial design and construction projects in Orange County, Los Angeles, and Santa Barbara. From construction consultation to design services, remodels to new builds, Tellus is a full-service general contractor. Started in 2005 as Orange County's first "Green" Design and Build firm, Tellus has been featured on HGTV and the Discovery channel and is a recognized industry leader by Houzz. To learn more, visit tellusdesignbuild.com. Design Reimagined, Construction Redefined.
Follow us on Instagram
Follow us on Facebook
Follow us on Houzz