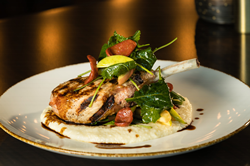 TEMECULA, Calif. (PRWEB) December 28, 2018
Temecula Valley Southern California Wine Country will celebrate Temecula Valley Restaurant Month with "Best of the Best" menu items in Old Town Temecula, Temecula Valley Wine Country, Pechanga Resort & Casino, Promenade Temecula, and throughout the destination. The month-long culinary event takes place at the start of the new year, from January 1 to January 31, 2019. For the event, local restaurants have been invited to participate by putting forward what they believe to be their "best" menu item.
Temecula Valley Southern California Wine Country is uniquely situated for premier culinary experiences from fine dining to gastro pubs to artisan farm-to-table to ethnic specialties. The agricultural surroundings of the region give restaurants convenient access to locally-sourced pork, beef, vegetables, citrus, apples, berries, cheese, olive oil, craft beer, spirits, wine – it's a chef's dream. Consumers are attracted to fresh, real food found at Temecula Valley restaurants and this year's focus on "Best of the Best" will be something every guest will want to sink their teeth into.
Suggested stops include The Vineyard Rose Restaurant at South Coast Winery, Pinnacle Restaurant at Falkner Winery, Sangio's Deli at Cougar Vineyard &Winery, The Restaurant at Avensole Winery, Ballast Point, Karl Strauss, and The Donut Bar. Executive Chef Loren Lawe's Seared Mediterranean's Sea Bass is packed with vibrant flavor and is a crowd favorite at The Vineyard Rose Restaurant. The sea bass is prepared with roasted butternut, braised leeks, toasted pine nuts and brown butter. The Pinnacle Restaurant features a Peppercorn Ranch Burger with Black Angus beef, melted Monterrey Jack cheese, cherrywood bacon, lettuce, tomato, and green peppercorn ranch aioli.
Sangio's features their classic Italian deluxe ham, genoa salami, hot capicola, mortadella, provolone, leaf lettuce, roma tomato, onion, roasted red pepper, pepperoncini and deli or creamy Italian dressing. The sandwich comes with choice of potato salad, pasta salad, coleslaw or grapes. Avensole Winery proudly showcases their beautiful charcuterie platter with a wine flight.
Ballast Point serves their California kolsch steak burrito, which is a Santa Maria dry rubbed tri-tip, guacamole, Pico de Gallo, cheddar cheese, and fries. Karl Strauss invites people to try Beer Brined Chops, a French-cut pork chops brined in Red Trolley Ale, with sautéed green beans, broccoli, firecracker sauce, and spicy mustard sauce. And for dessert, Donut Bar has a French Toast Donut, which is a raised cinnamon sugar donut turned into "the best French toast you've ever had."
During Restaurant Month, residents and visitors are invited to immerse themselves in all things culinary throughout Temecula Valley, such as farmers' markets, special chef events, cooking classes, wine and brewery tours, and spirit tastings. Temecula Valley's wealth of fresh, local ingredients paired with innovative chefs, farmers and culinary artisans means consumers can enjoy cuisine as diverse and robust as the region.
Temecula Valley Restaurant Month is an extension of California Restaurant Month; Visit Temecula Valley and the Temecula Valley Chamber of Commerce have proudly participated in the statewide event for the past nine years.
Get a complete list of all the participating restaurants at VisitTemeculaValley.com, or call (951) 491-6085.
ABOUT THE TEMECULA VALLEY AND VISIT TEMECULA VALLEY
Laid back, picturesque Temecula Valley Southern California Wine Country welcomes nearly three million visitors each year. It is a year-round vacation destination, located 60 minutes from San Diego, Orange County, and Palm Springs; 90 minutes from Los Angeles.
Temecula Valley Wine Country is widely recognized for its scenic vineyards, award-winning wines, and experiential wineries. The popular boutique destination includes the Temecula Valley A.V.A. (American Viticulture Area) as well as historic Old Town Temecula, and Pechanga Resort Casino. It also was named as a 2019 Wine Enthusiast Top 10 Wine Getaways.
Visit Temecula Valley is the region's official tourism marketing organization and resource for visitors. The Visitors Center is located in Old Town Temecula. For visitor information and assistance, please call (888) 363-2852 or go to VisitTemeculaValley.com.