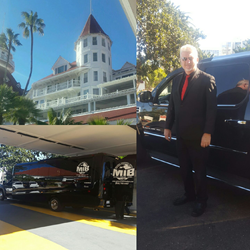 "The discovery of a good wine is increasingly better for mankind than the discovery of a new star." -Leonardo da Vinci
San Diego California (PRWEB) May 01, 2017
Who loves wine? Beside their custom private wine tours, MIB Limousine is now starting their public wine tasting tours. They will be visiting 3 of the finest wineries in Temecula wine country.
MIB Transportation is now hosting Temecula Wine Tasting Tours for the public [cost per seat]. Individuals will be taking a trip to 3 prestigious wineries, enjoying 15 tastings along with a complimentary tour of Thornton Winery. The pick up/drop off location is located at the Old Town Transit Station in San Diego. They will then drive up to Temecula Valley Wine Country to enjoy some tastings at Hart Winery, Thornton Winery and Lorenzi Estate Winery.
June 4th, 2017 is their first run, departing at 10am so make sure to arrive 15 minutes early to check in making their tour last for a total of 7 hours. MIB Limousine is proud to finally host their public wine tours. They have been dreaming of this moment for a while now and are excited to announce the commencement of public wine tours.
MIB Limousine serves clients ranging from corporate to meeting planners, individual families, and groups well on a daily basis no matter what time of the day it is, providing a peace of mind, demonstrate availability and responsiveness, exceed their expectations with professionalism and consistency and take pride in what they do. Have fun, meet new people and experience life in a different light with MIB Limousine Services.
MIB Limousine is a family owned business who benefit from treating their clients like their own. Wine tours have become one of the top things to do in San Diego, whether you are a wine expert or new to the tasting scene this is all the rage in 2017.
MIB WORLDWIDE CHAUFFEURED SERVICES
1 (858) 764 – 4467
Phone/Office Hours: 3:00 am – 11:59 pm
Service Hours 24/7