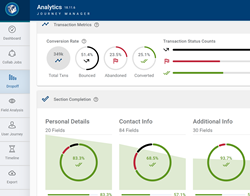 "Journey Analytics continues to be one of the crown jewels of our bank onboarding solution, and clearly the audience understood the benefits of data driven optimization to continually improve their customer journey."David Gaydon, General Manager of Temenos Infinity, North America
GENEVA (PRWEB) June 26, 2019
Temenos (SIX: TEMN), the banking software company, is proud to announce that its demonstration of Temenos Infinity was chosen as Best in Show – Audience Choice, and Runner Up to Best in Show – Judge's Choice, at the Digital Banking 2019 show on June 21 in Austin, TX. The demonstration highlighted the use of Temenos Infinity Journey Analytics to analyze and identify improvements for the customer journey yielding a 32% increase in successful submissions of a credit card application.
Digital Banking, presented annually by American Banker, is the industry's largest digital banking event, and features demo presentations from leading providers of banking solutions. This year's demonstration event featured 19 competitors over two days, with both audience members and judges selecting their Best in Show choice. Temenos was recognized in both categories.
"I am so proud of our team and their ability to highlight the value of Temenos Infinity at this prestigious and competitive venue," said David Gaydon, General Manager of Temenos Infinity, North America. "Journey Analytics continues to be one of the crown jewels of our bank onboarding solution, and clearly the audience understood the benefits of data driven optimization to continually improve their customer journey."
Temenos infinity is a digital banking product focused on customer experience. It solves the problems of acquiring, servicing, retaining and cross-selling customers for banks looking to thrive in an era of open banking. Infinity unifies customer experience with an omnichannel solution, driving higher conversion and customer success through data and analytics, improving agility and time-to-market.
The Journey Analytics module within Temenos Infinity captures the most granular behavioral data from customer acquisition and onboarding journeys across retail, business and corporate banking. It allows bank analysts to visualize the friction points causing delays or abandonment, make changes, and quickly measure the improvement. Often small changes in language or application flow can make a significant difference, resulting in increased customer conversion and digital revenue.
– Ends –
About Temenos
Temenos AG (SIX: TEMN), headquartered in Geneva, is the world's leader in banking software, partnering with banks and other financial institutions to transform their businesses and stay ahead of a changing marketplace. Over 3,000 firms across the globe, including 41 of the top 50 banks, rely on Temenos to process both the daily transactions and client interactions of more than 500 million banking customers. Temenos offers cloud-native, cloud-agnostic front office and core banking, payments, fund management and wealth management software products enabling banks to deliver consistent, frictionless customer journeys and gain operational excellence. Temenos customers are proven to be more profitable than their peers: over a seven-year period, they enjoyed on average a 31% higher return on assets, a 36% higher return on equity and an 8.6 percentage point lower cost/income ratio than banks running legacy applications. For more information please visit http://www.temenos.com.