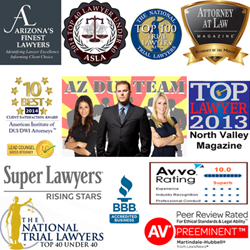 A lot is at stake when facing DUI charges, including money, freedom and even future employment prospects
Tempe, AZ (PRWEB) March 09, 2015
Tempe DUI lawyer, Brian Sloan, Member of The DUI Team has helped about 2000 people who were facing DUI charges in the greater Phoenix area. They are launching this new website to offer people an intelligent, quality DUI defense, at an exceptional price. "We have helped a lot of people who were facing a tough deal from the prosecutors while being aided by other, less diligent lawyers. After hiring us the outcomes often proved favorable because we pay specific attention to every detail of a case. Our goal is to minimize greatly or eliminate completely the consequences suffered by the accused." The new website will be live on March 10, 2015 and will be viewable at TheDuiTeam.com.
People facing a DUI charge don't need to do so alone according to Attorney Brian Sloan, "A lot is at stake when facing DUI charges, including money, freedom and even future employment prospects. The DUI Team is staffed by experienced DUI attorneys in Tempe, and we can help protect your rights by building a strong defense on your behalf." The new website will have information about the specific penalties associated with Driving Under Influence of drugs or alcohol.
Reasons to Hire a DUI Lawyer
People who think they should go without hiring a Scottsdale DUI lawyer should think again according to Sloan. "The courts are not there to protect your rights. They're there to determine your guilt or innocence. People who are convicted of drunk driving in Arizona face steep penalties, including time in jail, exorbitant fines and other penalties. With a strong DUI defense by the team at The DUI Team, you instantly increase the odds of avoiding the worst possible repercussions. The sooner you retain an experienced DUI attorney, the better.
Building a Phoenix DUI Defense
The DUI Team routinely defends people from all walks of life against DUI charges. They understand the complexities and nuances of drunk driving laws in Arizona and can identify the most effective defense strategy. "Upon investigating the matter, your DUI lawyer in Phoenix may discover that law enforcement violated your Fourth Amendment rights by stopping you without probable cause. They may also recognize that the circumstances that led to your arrest were unlawful to begin with, rendering the charges invalid. Regardless of the circumstances, we completely evaluate each case to create the best defense we can."
Protecting Rights
After being charged with DUI, it's natural for people to feel overwhelmed, scared and even ashamed according to Attorney Brian Sloan. "People should keep in mind that people like them face these charges every day. The people who avoid the worst consequences are those who retain talented and experienced lawyers. When people need competent DUI attorneys in Scottsdale AZ, it may be in their best interests to hire The DUI Team, but if we can't help them we will tell them that. If we are hired we go right to work on investigating the case and on building the strongest defense possible."
To learn more about The DUI Team or to schedule a consultation for a case evaluation please call (480) 382-5562. People are also encouraged to view their online videos and informative blog posts. The new Tempe and Phoenix DUI lawyer resource site will be live on March 10, 2015.
The DUI Team
60 E Rio Salado PKWY
Suite 900D
Tempe, AZ 85281
(480) 382-5562