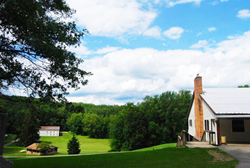 Whether we have a group using a meeting space for the day or a group staying with us for the week, we do what we can to help groups focus on their program while we take care of details like offering home-cooked meal service and a clean warm place to sleep
(PRWEB) November 29, 2018
Templed Hills Camp & Retreat Center located in Bellville, Ohio announces many on-site improvements and enhancements since the reopening in February 2018. Since the site reopened 9 months ago improvements and renovations have continued and now include overnight accommodations for up 300+ guests. The camp and retreat center is available to all types of groups such as church groups, weddings, business meetings, sports teams, reunions and crafters to name a few.
Andy Lacefield and Miranda Nousek new Site Directors at Templed Hills, want to make sure all guests are comfortable and have everything they need. "Whether we have a group using a meeting space for the day or a group staying with us for the week, we do what we can to help groups focus on their program while we take care of details like offering home-cooked meal service and a clean warm place to sleep," says Nousec.
Templed Hills has a large campus and has made renovations to every building on site. Just a few of the many enhancements include new furniture, updating heating, adding air conditioning, updating bathrooms, new paint, and inserting new fireplaces in every lodge. A full list of updates resides on the website.
"For our customers looking for activities, we have multiple hiking trails, a football field, a soccer field, a pond to fish in, sand volleyball court, basketball court, GaGa Pit, and an Olympic sized swimming pool," says Lacefield. The site also offers free Wi-FI to all guests who stay in one of the lodges. The site also features fire rings in multiple locations and two outdoor pavilions with picnic tables for groups to utilize during their stay.
Templed Hills Camp & Retreat Center is owned by the Ohio Conference of the United Church of Christ and is managed by United Camps, Conferences and Retreats. For a complete list of updates and renovations please visit the Templed Hills website.
The site, located in Bellville, Ohio, near 1-71, is just over an hour from both the greater Cleveland and Columbus areas.
United Camps, Conferences and Retreats can be contacted directly at 1-800-678-5102 or visit Templed Hills Camp website for more information.