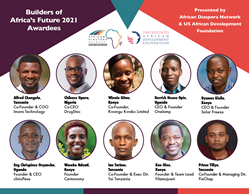 ""We are thrilled to award each of the Builder of Africa's Future winners catalytic funding in recognition of their impactful work, and we ask [others] to join us investing in, supporting, and celebrating these changemakers in building Africa's future." CD Glin, USADF President and CEO
SILICON VALLEY, Calif. (PRWEB) January 07, 2021
In its fourth year of celebrating innovation and impact in early-stage African enterprise, the African Diaspora Network (ADN), in partnership with the United States African Development Foundation (USADF) and the Miller Center for Entrepreneurship at Santa Clara University, proudly announces the ten recipients of the 2021 Builders of Africa's Future (BAF) award which will be presented at a special event on January 27, 2021 at 8:00AM PST.
The Builders of Africa's Future awardees were carefully selected from across the continent in partnership with nominating partners: Stanford SEED, MIT, Segal Family Foundation, and Siemens Stiftung, to name a few. Each of these entrepreneurs also fit the following criteria: possession of a tangible physical or digital product, demonstrable traction in product usage, addressing challenges unique to the African socio-economic climate, and must have been in operation for a minimum of 6 months.
According to Almaz Negash, Founder and Executive Director of the African Diaspora Network, "Every year, we select Africa's most promising entrepreneurs to join us in Silicon Valley to connect them to potential investors, mentors, and partners. We see increased opportunity for the Builders of Africa's Future to accelerate their ventures through partnerships with Diasporans and Friends of Africa to address Africa's unique needs through technology. Each of our 2021 BAF awardees are early-stage startup founders with proven track records. This year we are excited to add a new cohort, which has shown incredible resilience, especially in the midst of the COVID-19 pandemic."
The 2021 Builders of Africa's Future awardees will each receive $5,000 courtesy of USADF, entrepreneurship training from the Miller Center for Entrepreneurship at Santa Clara University, and an opportunity to pitch to investors during a virtual event at the January 27, 2021 convening of the African Diaspora Investment Symposium (ADIS21). The awardees will also gain access to the African Diaspora Network's global community and join the exclusive BAF cohort.
"USADF is committed to investing in African grassroots enterprises and social entrepreneurs making a difference in underserved communities," said USADF President and CEO C.D. Glin. "We are thrilled to award each of the BAF winners catalytic funding in recognition of their impactful work, and we ask the U.S.-based and global investor community, foundations, philanthropists, and impact investors to join us investing in, supporting, and celebrating these changemakers in building Africa's future."
So far, the Builders of Africa's Future program has recognized over 31 entrepreneurs and enterprises from across the continent, providing funding, partnership and mentoring opportunities, and a platform to boost brand visibility and investment potential in Silicon Valley.
Learn more about the 2021 recipients of the Builders of Africa's Future award here, and register to attend the event here.
###
About African Diaspora Network:
African Diaspora Network (ADN) is a registered 501(c)(3) nonprofit membership organization. Our mission to harness and engage the intellectual, financial, philanthropic and entrepreneurial capacity of Africans and friends of Africa in support of economic and social development across Africa. Since 2010, the African Diaspora Network has energized collaboration among Silicon Valley entrepreneurs, philanthropists and African Diasporans to uplift its local community towards the benefit of Africa. ADN is dedicated to providing virtual and physical forums to accelerate access to resources that foster partnership, knowledge sharing, and advance investment opportunities.
About the United States African Development Foundation (USADF):
The United States African Development Foundation (USADF) is an independent U.S. Government agency established by Congress to support African-owned community and social enterprises which improve lives and livelihoods in underserved communities. Utilizing a community-led development approach, USADF invests directly to provide seed capital and local project management assistance to early-stage enterprises addressing local challenges such as food insecurity, insufficient energy access, and unemployment, with a focus on women and youth entrepreneurship. To learn more, please visit: https://www.usadf.gov/