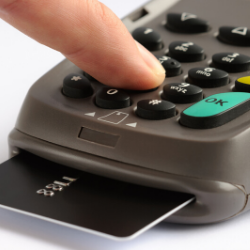 "If a consumer has to pay a fee or a penalty when a merchant successfully defends a disputed charge, chargeback rates will plummet, and banks and merchants will stop losing money to friendly fraud."
TAMPA, Fla. (PRWEB) November 19, 2019
Global dispute mitigation and risk management services firm Chargebacks911 has released its second comprehensive report on the U.S. states and cities with the highest rates of fraudulent credit card chargebacks. Monica Eaton-Cardone, Co-Founder and COO of Chargebacks911, notes that the incidence of chargeback has more than quadrupled in the most chargeback-prone cities during the five years since the last Chargebacks911 study was released. With the bulk of Holiday shopping expected to be transacted online this year, the increase in chargebacks has reached worrying levels.
In the 2014 Chargebacks911 study, the seven states with the highest chargeback rates were Arizona, New York, California, Florida, Pennsylvania, and New Jersey. Three states—California, Florida, and New York—made the list in 2019, along with Illinois, Wisconsin, Delaware, and the District of Columbia.
Unsustainable levels: What is disturbing about the 2019 results, however, says Eaton-Cardone, is not the presence of one state or another, but the high level of chargeback activity in certain areas within those states. The top 10 offending cities in 2014, she notes, had an average chargeback level of 1.68 percent—high enough to be worrisome, but not dangerous [1]. The top 10 cities in 2019, however, showed an average chargeback rate of 6.65 percent, over four times the rate five years previously.
State -- City -- Chargebacks %
IL -- SANTA BARBARA -- 6.79%
AZ -- PARADISE VALLEY -- 6.73%
CA -- LA MIRADA -- 6.68%
CA -- LA HABRA -- 6.68%
CA -- IRVINE -- 6.65%
DC -- WASHINGTON -- 6.64%
PA -- MECHANICSVILLE -- 6.63%
NY -- BROOKLYN -- 6.60%
CA -- ENCINO -- 6.57%
NY -- NEW ROCHELLE -- 6.57%
These chargeback rates, says Eaton-Cardone, are simply unsustainable. The upcoming holiday shopping season will be followed, at about a four-week interval, by a tidal wave of chargebacks, the vast majority of which will be fraudulent.
Tight rules for merchants: Credit card issuers, meanwhile, led by Visa and Mastercard, typically require merchants to operate at a very low ratio of chargebacks as a percentage of total transactions—1.0 percent. If a merchant's chargebacks exceed this threshold, a substantial fine is levied against the business in addition to the normal chargeback fees, for which the merchant is solely responsible [2].
An online issue: Credit card billing disputes are 81 percent likelier to involve a card-not-present, i.e. online, transaction than a card-present instore purchase [3], which means that chargebacks are primarily an eCommerce problem. As 86 percent of chargebacks involve fraud [4], says Eaton Cardone, current industry practices are simply enabling consumers to defraud the merchants they shop with by contesting charges they know to be valid.
This, she notes, can happen for a variety of reasons—the consumer has forgotten she made the purchase, didn't like the product or service ordered, or just doesn't want to pay for it—but the end result is the same: a refund to the customer and a loss to the merchant, accompanied by fines and the very real threat of going out of business.
Time to take action: "To defend themselves," says Eaton-Cardone, "online merchants who have not already done so should immediately register with Visa's Visa Merchant Purchase Inquiry program [5], which in some cases enables merchants to resolve a claim before a chargeback is filed." She urges merchants to do this before Black Friday or Cyber Monday.
"Beyond that, we need an industry-wide effort, possibly accompanied by legislative action, to adjust industry rules and procedures to reflect the world we actually live in. This is a solvable problem. If a consumer has to pay a fee or a penalty when a merchant successfully defends a disputed charge, chargeback rates will plummet, and banks and merchants will stop losing money to friendly fraud."
Chargebacks911 is dedicated to educating and supporting eCommerce merchants with services designed to boost revenue, shrink chargebacks and defeat fraud. To that end, Monica Eaton-Cardone and her team will be participating in Chargeback University—Chicago November 19. For details on Chargebacks911's comprehensive risk management solutions, informative articles and other merchant resources, visit https://chargebacks911.com
1. "New Chargebacks911 Study Reveals Top U.S. Cities With Highest Chargeback Statistics," Chargebacks911, November 12, 2014.
2. "Visa Updates Fraud & Chargeback Ratios on October 1, 2019," NETbilling, September 28, 2019.
3. Egan, John, "What is Card-Not-Present Fraud?", U.S. News & World Report, February 1, 2019.
4. "86% of fraud in chargebacks," Payments Card and Mobile, April 7, 2015.
5. "Everything You Need to Know About VMPI," Chargebacks911, November 2, 2018.