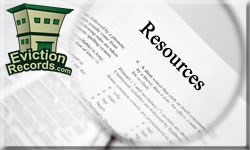 Eviction Records.com has created a tenant screening resources page!
Boston, MA (PRWEB) January 30, 2014
In an effort to provide its clients with the most valuable experience, EvictionRecords.com has recently launched a new landlord resources page on its website. This page is designed to give landlords additional information about the tenant screening process, and also offer them links to free tenant screening resources that are available for them to use in their research.
EvictionRecords.com is a top provider of instant and accurate tenant screening services, including state, local and national criminal records searches, court record searches and eviction records searches. These services allow landlords and business owners to easily access pertinent information about potential tenants for their properties.
Recognizing that landlords have unique needs when it comes to selecting tenants for their properties, EvictionRecords.com has created its tenant resource page. The tenant screening resources page includes links to external sites that offer free resources to landlords, such as the AMBER Alert search, Annual Credit Report, County Name and Zip Code Lookup and the National Sex Offender Registry, to name a few. Clients should note that these services are provided free of charge by external providers, therefore EvictionRecords.com cannot be held responsible for the information that landlords receive from these services.
EvictionRecords.com has long been committed to providing its clients, including landlords, property managers and real estate companies, with superior background search products and customer service. As a company, EvictionRecords.com pledges to improve their services and the information that they provide their customers. This commitment to improving customer service at all times helped to influence the decision to launch the new tenant resource page.
Ultimately, landlords should be able to use these tenant screening resources in order to complement the information that they receive from their eviction records reports, criminal records reports and court records reports. These tenant screening resources can assist the clients who work with EvictionRecords.com to receive a well-rounded portrait of potential tenants, and help them to feel comfortable when selecting a tenant for their properties.
Clients and those interested in the tenant screening process are invited to contact company representatives at EvictionRecords.com in order to learn more about the tenant screening services that are available from the company. For more background check services information and about the landlord resources and tenant resource page, contact the company today.
About EvictionRecords.com
EvictionRecords.com provides accurate and affordable tenant screening solutions to help landlords and property managers make informed tenant screening decisions. Tenant screening services include: tenant eviction records reports, tenant criminal records reports, a federal records report search, county court records reports, a national sex offender registry check, identity verification, and an address history trace.