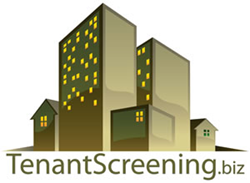 TenantScreening.biz offers landlords cost-effective rental screening solutions.
Boston, MA (PRWEB) January 30, 2015
TenantScreening.biz will post a new blog article each week, eventually covering all 50 states, D.C. Guam, Puerto Rico, and Virgin Islands. The company offers landlords access to advanced tenant screening services. Independent landlords can access credit reports, eviction reports, criminal reports, and a tenant score.
Each weekly blog posting will contain valuable information on housing statistics within a state, such as the total privately owned housing units and the rental vacancy rate. General income and property information on each state will also be provided, such as median household income and percent of individuals and families below poverty. Examples of general housing information are existing home sales by state and homeownership rates by state.
TenantScreening.biz offers landlords cost-effective rental screening solutions that are reliable and up-to-date because of their partnership with one of the nation's largest providers of multifamily housing risk management and tenant screening services. To stay on top of the latest trends in the screening industry, the company is an active member of its industry trade organization, the National Association of Professional Background Screeners, as well as other industry associations.
Landlords looking for instant access to just eviction and criminal data can utilize EvictionRecords.com. EvictionRecords.com offers state eviction reports for $19.95 and criminal reports for $24.95. They also offer a national eviction record search for $34.95 and county criminal reports for every county in the nation. All orders include a free national sex offender report as well as a most wanted search. In addition to being instant and affordable, the results are provided in an easy-to-read format, and customer service is available by phone or email to provide any additional support needed.
About TenantScreening.biz
TenantScreening.biz offers property owners, landlords, business managers, and proprietors all of the tenant screening services that they need in order to screen for qualified tenants for their properties. Tenant screening services offered through TenantScreening.biz include credit reports, tenant scores, eviction and criminal history checks, multi-state sex offender searches, previous address history searches and terrorist activity history searches. To learn more about TenantScreening.biz, visit the website at http://www.TenantScreening.biz.