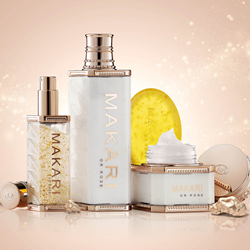 The Makari brand has a strong and proven record of using age-old natural blends to safely improve the appearance of melanin skin. - Ezra Aini, Makari, COO
NEW YORK (PRWEB) July 09, 2020
Makari De Suisse, a global luxury beauty brand, will be represented by Tené Nícole Marketing and Public Relations. Makari, which means 'beautiful' in Swahili, aims to educate consumers to recommend the best products for all skin types and prides itself on producing solutions made for melanin.
Fueled by a passion for skincare and a desire to establish a niche brand of even skin tone and minimize the signs of aging, Makari scientists acquired first-hand knowledge of the lack of premium beauty products catering to its clientèle, women of color. Consumers seeking gentle, yet effective products addressing discolorations, uneven skin tone, and oily skin cannot find quality botanical-based formulations and resort to using harmful chemical-based products.
Makari offers solutions through its multi-benefit moisturizing crèmes, exfoliating soaps, and healing serums that deliver visible, lasting results. Its team of chemists formulated developed and patented products packed with natural, skin-loving favorites like gold, caviar, shea butter, carrot, sweet almond, and argan oils. These luxurious ingredient combinations hydrate and soothe to reveal supple skin that radiates health and youth.
Makari has been a trusted beauty brand for more than two decades with an ever-growing global distribution network of 20 retail flagship stores that span across 30 countries in North America, Africa, Asia, Europe, and Australia.
"The Makari brand has a strong and proven record of using age-old natural blends to safely improve the appearance of melanin skin. We continue to offer technologically advanced quality products to restore beauty and deliver undeniable results, and pride ourselves on focusing on our consumers with beautiful melanin skin." -Ezra Aini, Makari, COO
For more details, visit http://www.makari.com.
ABOUT MAKARI DE SUISSE
For over 20 years, Makari has offered collections of targeted, problem-solving products addressing the skincare needs of diverse, multi-hued skin of color from hyperpigmentation, excess oil production, hydration to anti-aging. Its approach to skincare combines innovative and safe ingredients into effective daily regimens devoted to improving and preserving one's skin health. The result is revolutionary products that aid in reducing the appearance of dark spots, correcting the signs of aging, evening out skin tone, protecting healthy skin, and preventing future damage.
ABOUT TENÉ NÍCOLE
Tené Nícole, Marketing, and Public Relations is a boutique one-stop full-service marketing and public relations firm located in New Jersey. The firm maximizes its clients' exposure via an extensive network of contacts in support of their campaigns, events, goals, and initiatives. The firm delivers industry-leading media campaigns to the doorsteps of its clientele while doing its part to help create memorable experiences. Tené Nícole is a leader in its class because of its distinctive, strategic, and diverse public relations model that creates opportunities and results for its clients.