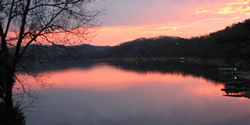 KNOXVILLE, Tenn. (PRWEB) April 20, 2020
Along with many other organizations and people across the world, the Tennessee River Valley Stewardship Council will honor the 50th anniversary of Earth Day on April 22, 2020. This annual event marks a calendar date for mankind to reaffirm its commitment to respecting the interconnected systems of the world and to have the resolve to help protect the earth for future generations.
To mark the 50th anniversary of Earth Day, the Tennessee River Valley Stewardship Council will:

Reaffirm its mission to further the goals of geotourism by educating travelers, communities and decision makers on the benefits of geotourism principles,
Reaffirm its partnerships with agencies that work to preserve and protect the waterways and public lands through their projects and research,
Continue to showcase the natural, cultural and historic attractions that are authentic to the Tennessee River and encourage people to be geotourists.
Today, mankind is challenged with unpredictable and widely fluctuating weather patterns amid an interconnected world that has led to a global pandemic and deepening recession. The Tennessee River Valley was a witness to the destructive forces of nature during April 2020. Violent spring storms brought flooding and tornadoes across portions of Mississippi, Tennessee, Alabama and North Georgia. The destruction left behind is an indelible reminder that mankind must be stewards of the lands and waters that they are entrusted with, and that climate has a profound effect on human life.
Less than one hundred years ago, the Tennessee River Valley and the Nation were facing similar human suffering. The Great Depression was taking a toll on the lives of families, small businesses and farmers. The land was scarred with erosion caused by over logging, poor farming practices and repeated flooding. Unemployment was rampant and people struggled to secure basic human needs such as food and housing. It would only be forty years later that pollution of rivers and streams from industrial run-off and inattention were causing health issues for many communities. For many, water was unsafe to drink. Earth Day was launched to raise awareness of how the condition of the environment negatively impacts people's lives.
In celebration of the 50th anniversary of Earth Day, the Tennessee River Valley Stewardship Council is excited to share this video clip with the world, to not only celebrate the beauty of the Tennessee River Valley but to remind of what can be lost without an affirmation to steward the lands and waters that so many call home.
For more information on the Tennessee River Valley Stewardship Council and geotourism, visit http://www.trvstewardshipcouncil.org/why-geotourism/.