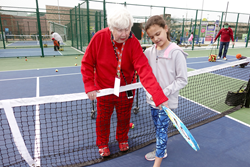 Barbara Wynne brings a passion like her friend Arthur Ashe to the game that has inspired more than 100,000 youngsters who have been her students during the last 50 years.
INDIANAPOLIS (PRWEB) September 04, 2018
Fans across the world are watching the incredible action at the U.S. Open and that is inspiring the next generation to get in the game themselves. At Riley Children's Health Sports Legends Experience, children and their grownups can learn directly from someone who's been part of teaching the game since Arthur Ashe captured the first US Open men's championship in 1968.
Families are encouraged to learn or perfect their game on miniature tennis courts at the Sports Legends Experience at The Children's Museum of Indianapolis. Tennis is one of several sports that focus on fun, family fitness and intergenerational interaction at the world's largest children's museum. Other sports include: football, basketball, hockey, soccer, pedal car racing (drag strip and oval), golf, and baseball. Another huge component is learning how sports can be used to teach valuable life lessons including good sportsmanship, honesty, fairness, hard work, dedication, critical thinking and playing to your strengths.
In addition to coaches and actor interpreters who cheer on visitors and share tips, there's a special treat that the public can't find anywhere else. Her name is Barbara Wynne and she brings a passion and excitement to the game that has inspired more than 100,000 youngsters who have been her students during the last 50 years. Wynne's philosophy is based around the vision of legendary tennis player Arthur Ashe. Ashe said that tennis could be used as a way to gain and hold the attention of children, while encouraging discipline and dedication.
Like Ashe, Wynne strongly believes that lives can be changed through tennis and she works hard to teach the game as well as etiquette, good sportsmanship and empathy. On several weekends throughout the summer, visitors will find Wynne volunteering her time on the tennis courts at the Sports Legends Experience because she just loves the game and sharing it with others.
Wynne has received numerous awards and honors throughout her career. The International Tennis Hall of Fame awarded her the Educational Merit Award. She also received the International Tennis Federation's Service to Tennis Award, and she is now immortalized in bronze along the Old National Bank Sports Legends Avenue of Champions.
Who knows, maybe one of her students will one day make a name for him or herself on the national stage.
While visiting The Children's Museum, families will want to check out some of the tennis art within NAMOS (the National Art Museum of Sport) including Arthur Ashe by Donald Moss and Tennis by Erte.