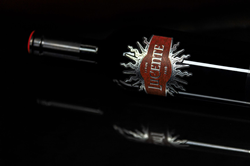 MONTACINO, Italy (PRWEB) December 02, 2022
Tenuta Luce, the iconic Tuscan estate, born from the partnership between Napa Valley legend Robert Mondavi and Vittorio Frescobaldi of the historic Marchese de Frescobaldi winemaking family, is pleased to announce the release of Lucente 2020 in the US market with a restyled front label.
A thoughtful interpretation of extraordinary terroir, Lucente is a masterful blend of Sangiovese and Merlot grown in estate vineyards at Tenuta Luce. "The 2020 growing season was characterized by a winter that was predominantly dry and mild, which led to an early, homogeneous budbreak in the second week of March for Sangiovese and one week later for Merlot," explained Tenuta Luce winemaker Alessandro Marini. "The spring was mostly sunny with some rain episodes in May, which supported successful flowering. The rain showers in the first weeks of June prepared the vines to cope with a long, hot summer. The harvest started on September 3rd with the best conditions: sun-filled days and significant day-night temperature fluctuations, which allowed us to harvest healthy grapes with perfect phenolics and an extraordinary aromatic balance."
The winemaking philosophy of Tenuta Luce relies on the belief that wine must be the natural expression of the terroir that produces it, and the wine must reflect the specific qualities of the grapes that make it. The result is a masterful harmony between the grape variety and the terroir. Lucente 2020 is an homage to this vision: a duet between the beauty of the land and the art of winemaking. Lucente is the gift of those workers at Tenuta Luce who work tirelessly to create this balance on a daily basis and elevate it to an art with deep respect and commitment.
The restyled label for the 2020 vintage, which portrays the symbol of the sun encircled by 12 flames, is intended to create a "family image" for all the wines of the Tenuta Luce estate, so that they all convey the same message of uncompromising commitment to quality, the foundation of every single activity at Luce.
Since 1993, Tenuta Luce has represented the very soul of Montalcino, an extraordinary area within the Parco Naturale della Val d'Orcia. The estate itself consists of 249 hectares (615 acres) of impressive biodiversity, with woodlands, olive groves, and 88 hectares (217 acres) of vineyards.
Lucente 2020 Tasting Notes
Brilliant ruby color. A wine of striking personality, the nose offers a bouquet of rich blueberry and wild blackberry notes, lifted by a hint of pan brioche and balsamic. The supple, velvety palate, beautifully supported by superb acidity and delicate, silky tannins, drives towards a near-endless, fruity finish.
Technical Notes
Blend of Merlot and Sangiovese, harvested in the beginning and toward the end of September, respectively. Following a 10-day fermentation at 28oC, the wine macerated for 20 days on the skins, and then matured for a minimum of 12 months in oak barrels.
About Tenuta Luce:
Tenuta Luce della Vite lies southwest of the town of Montalcino, in the heart of the Val d'Orcia Natural Park, a rural landscape sensitively re-designed by man in the pre-Renaissance era and declared by UNESCO in 2004 a World Heritage Site. This extraordinary corner of earth, historically renowned for its world-class wines, hosts the 249 hectares of the Luce wine estate, set among woods and olive groves, with 88 hectares of vineyards: a lightly inhabited, near-pristine environment rich in biodiversity. Its beneficial sunlight and well-ventilated conditions, gift of its unique exposure, and its diversity of soils at different elevations all combine to make Tenuta Luce a truly privileged place, where the harmony of all these components is jealously respected and protected. That respect is reflected in the winemaking as well, where each process of production is performed with meticulous care, in order to preserve the harmony achieved in the vineyard. The fruits of this enlightened philosophy and unique terroir are Tenuta Luce wines Luce, Lucente, Luce Brunello, and Lux Vitis, the culmination of an ambitious project begun in the early 1990s aimed at obtaining the fullest expression of the Montalcino territory yet with an utterly distinctive individual style. http://www.tenutaluce.com