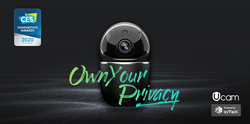 Ucam delivers impenetrable security and privacy that gives users the freedom to exclusively own and control all videos from their Ucam.
MENLO PARK, Calif. (PRWEB) September 29, 2020
IoTeX, a Silicon Valley-based technology platform for privacy-protecting smart devices, and Tenvis Technology Ltd, a global security camera manufacturer founded in 2005, announced today the launch of Ucam, the world's first blockchain-powered and privacy-protecting home security camera that is now for sale on Amazon.
With a vision for an Internet of Trusted Things, IoTeX has partnered with specialist camera manufacturer Tenvis to co-develop this first-of-its-kind security camera with absolute privacy. Ucam applies blockchain, end-to-end encryption, and edge computing technology to deliver impenetrable security and privacy that gives users the freedom to exclusively own, control, and share the videos captured by their Ucam.
"We are proud to bring the first 100% private consumer product to the mass market with Ucam," IoTeX CEO Raullen Chai said. "Ucam allows parents, caretakers, pet owners, and more to protect their loved ones without ever worrying about being spied on. Only the Ucam owner and authorized users can access your Ucam and your videos -- not even our engineers have access under any circumstance. With no strings attached, Ucam users will have peace of mind knowing there is no corporation manipulating or selling their data because all of it is owned by the user."
Ucam, at a retail price of under $50 on Amazon, was awarded the CES Innovation Award 2020 for Cybersecurity & Personal Privacy. Ucam has all the features of leading home security cameras on the market today, such as 1080p HD video, 360-degree coverage, motion detection alerts, night vision, and two-way audio. But the true differentiating features are related to security and privacy. Ucam uses blockchain to remove the risk of brute-force password hacks and end-to-end-encryption to enable private live-stream video and recorded clips sharing. The camera debuted at this year's Consumer Electronics Show (CES) in Las Vegas and has been in beta testing with hundreds of users for most of the year ahead of today's official launch.
"In our years of experience with security cameras, we have never seen such a complete offering in a camera that can keep our users' private moments absolutely private," Tenvis founder Felix Lee said. "Ucam users will enjoy all the features they want from a home camera, with the big feature they need: privacy."
Ucam exemplifies IoTeX's vision to empower user-centric smart devices that deliver all of the convenience and features that users expect but with full privacy. With Ucam, all computing is done locally on the Ucam device or the user's mobile phone, removing the need for centralized servers entirely. The only place where users' data is decrypted is on the devices that they own. When in transit, all data is immediately end-to-end encrypted using a one-of-one blockchain private key that is owned exclusively by the user and impossible to crack for maximum security.
IoTeX is empowering a borderless ecosystem for smart devices with privacy and data ownership as first principles. The IoTeX platform currently powers an array of private smart devices across a number of industries, such as Ucam and the Pebble Tracker asset tracking device. The IoTeX platform combines blockchain, secure hardware and confidential computing to ensure users are the only ones in control of their devices and data. The IoTeX vision includes healthcare wearables, asset trackers, and other devices that manage sensitive data.
"The creep of surveillance capitalism into our homes and neighborhoods is threatening our fundamental right to freedom and privacy for individuals. But data ownership provides people with the freedom to choose whether to keep their data fully private, share it with others or authorize its use by corporations. This is antithetical to today's centralized models, which operate as data dictatorships, where citizens must ask corporations to delete, transfer, or do anything else with their data," Chai said.
Raullen Chai is available for interviews.
About IoTeX
Founded as an open source platform in 2017, IoTeX is building the Internet of Trusted Things, where all physical and virtual "things" — humans, machines, businesses, and DApps — can exchange information and value at global scale. Backed by a worldwide team of 30+ research scientists and engineers, IoTeX combines blockchain, secure hardware, and decentralized identity innovations to empower intelligent IoT networks and machine economies. By serving as a decentralized trust fabric for IoT, IoTeX will empower the future decentralized economy by "connecting the physical world, block by block."
About Tenvis
Established in 2005, Tenvis Technology Co., Ltd is a leading IP video product and solution provider integrating R&D, manufacture and sales. We strive to provide high quality, competitive priced network video surveillance devices and professional services for worldwide clients. Our products are exported to all over the world with a full range of network security products, which covers MJPEG and H.264 cameras and they also gained a good reputation for their high cost efficiency.