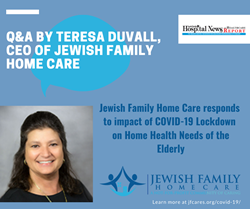 "In this challenging time, the wellness & safety of our clients and team is our top priority," said Teresa Duvall, President & CEO of Jewish Family Home Care. "Good communication with our clients and their families and healthcare providers continue to be a high priority."
DAVIE, Fla. (PRWEB) August 03, 2020
Teresa Duvall, President & CEO of Jewish Family Home Care, was recently featured in a question and answer-style story published by the South Florida Hospital News.
The Q&A featured article discusses how the home healthcare organization is actively dealing with the COVID-19 pandemic. With Florida seeing continual increases in the number of individuals testing positive for the virus, this news is more pertinent than ever.
South Florida Hospital News is a monthly publication whose goal is to produce top quality healthcare journalism that focuses on the geographical area. It has a readership of over 32,000 healthcare professionals in the region, which includes Broward, Martin, Miami-Dade, Monroe, and Palm Beach Counties.
Duvall is the founding CEO of Jewish Family Home Care (JFHC), having started the company in 2015. She has over 30 years of administrative experience in the home healthcare field and dedicates her life to improving the quality of others.
The detailed Q&A with Duvall was a part of the South Florida Hospital News' July 2020 issue. Among the worries that Duvall discussed in the article is the fact that the organization's clients have experienced challenges keeping up their strength. "Our clients simply cannot be as active as they previously were, due to COVID-19 mandates and restrictions," Duvall explained.
During the middle of the outbreak, JFHC experienced some difficulties finding enough personal protective equipment (PPE), although they had proactively stocked enough beforehand to ensure that everything still went smoothly until the supply chain resolved itself.
JFHC's home health aides are continuing to encourage and assist seniors and their loved ones during the pandemic. Their top priority is the wellness and safety of their 600 plus elderly clients and team.
For more information about Jewish Family Home Care and Teresa Duvall's interview featured in the South Florida Hospital News's July 2020 issue, please visit the South Florida Hospital News website.
More About Jewish Family Home Care, Inc.
Even as one of Broward County's largest home care agencies, each of Jewish Family Home Care caregivers operates with the hands-on touch of a family-managed, not-for-profit organization. Jewish Family Home Care provides a range of reliable and compassionate home care services for seniors, including companionship, personal care, light housekeeping, meal preparation, errands, and respite for family caregivers.
For more information, call 954-908-5677 or visit https://www.jfcares.org/ to learn more about the personalized home care provider.