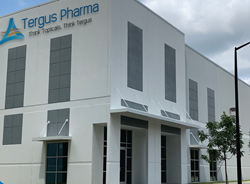 DURHAM, N.C. (PRWEB) October 15, 2020
Significant progress continues to be made on the construction of Tergus Pharma's new, state-of-the-art research and development and commercial manufacturing facility in the Research Triangle area of North Carolina, USA.
Tergus Pharma has remained operational during the COVID-19 pandemic, taking measures to protect employees and serve clients while securing several commercial manufacturing contracts for 2021.
"Despite the pandemic, new facility construction has continued—though we did experience some delays due to the delivery of materials," said Tergus Pharma Chairman and CEO, Dr. Vijendra Nalamothu. "Tergus is gaining unprecedented momentum with the announcement of our new commercial manufacturing capabilities and is already gaining several orders for 2021 and beyond."
The new Tergus Pharma global headquarters and CDMO facility will be ready to service its new client base in early Q1 of 2021. Current operations will continue without interruption during the transition.
About Tergus Pharma
Tergus Pharma is an end-to-end service provider for topical pharmaceutical research, drug development, testing, and manufacturing, and has been an industry leader for several years with a state-of-the-art facility in Durham, North Carolina. The company has a long and stellar reputation for delivering quality results to clients, from formulation through clinical supplies manufacturing, earning the company the tagline, "Think Topicals, Think Tergus." A systematic and scientific approach is used to thoroughly understand a product's components, processing, and attributes to ensure the highest level of quality throughout the course of development. Tergus scientifically helps its clients achieve the right balance between speed and quality. For more information, please visit https://www.TergusPharma.com/