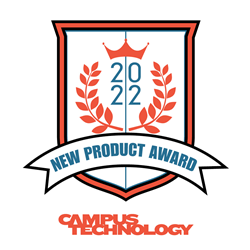 "Students are inundated with information on many different channels, so having one tool for schools to streamline their student communications is vital – and that's why we created Engage." - Anthony Rotoli, CEO of Terra Dotta
CHAPEL HILL, N.C. (PRWEB) January 19, 2023
Terra Dotta, a leading global engagement education technology provider, today announced that Terra Dotta Engage, a global education communications hub, has been named a platinum winner of Campus Technology's 2022 New Product Award for Global Engagement, International Education and/or Study Abroad Solutions. Terra Dotta's Global Engagement Platform took home the award in the same category in 2021.
"Students are inundated with information on many different channels, so having one tool for schools to streamline their student communications is vital – and that's why we created Engage," said Anthony Rotoli, CEO of Terra Dotta. "The Terra Dotta team is honored to be recognized by Campus Technology once again for setting the standard of delivering education technology tools that support global engagement offices and their pursuit of providing a personalized experience for both study abroad and international students."
Serving as a communications hub to improve the student experience and grow global education programming, Engage enables institutions to personalize student outreach, efficiently communicate with students through automated campaigns, manage events calendars, and measure campaign success regarding institutional reach and enrollment. Engage is part of Terra Dotta's cloud-based Global Engagement Platform that serves more than 700 higher ed institutions' international education efforts in more than 85 countries worldwide.
Campus Technology's 2022 New Product Awards recognize the incredible product development achievements of leading product and service providers in the higher education market and their role in education technology's ongoing transformation.
"We are pleased to honor the winners of this year's New Product Awards and recognize that technology lays the foundation for digital transformation in higher education, across all aspects of the institution — from classrooms to administrative offices and beyond. Congratulations to all of the outstanding products making a difference this year," said Rhea Kelly, editor-in-chief of Campus Technology.
Engage, which is already in use at Portland State University and others, seamlessly integrates with current incoming and outgoing Terra Dotta solutions. To learn more and request a demo, visit Terradotta.com/Engage.
About Campus Technology
Campus Technology is one of higher education's top information sources, serving as a complete resource for academic and administrative IT leaders and establishing a collaborative environment that promotes professional networking and global pedagogy.
For more information, visit http://www.campustechnology.com.
About Terra Dotta
Terra Dotta is the trusted leader in global engagement solutions for higher education. Over 700 universities and colleges use Terra Dotta's global engagement platform to facilitate cross-cultural experiences for students, faculty and staff in more than 85 countries worldwide. The company's solutions help customers deliver end-to-end, accessible global engagement experiences that meet comprehensive safety and compliance requirements – from managing domestic and international travel to international student programs, virtual and global experiences and beyond. Terra Dotta is based in Chapel Hill, N.C. and can be found at http://www.terradotta.com.