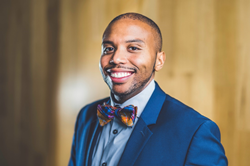 SANTA MONICA, Calif (PRWEB) March 01, 2023
TerraScale Inc., a five-time award-winning green development, infrastructure and finance firm formed with the goal of accelerating the transition to a more sustainable planet, today announced that it will host a new webinar series, SDG Acceleration Series. The series is being launched at the end of Black History Month and the start of Women's History Month.
This series, which will initially take place every two months, will feature insightful, engaging, and actionable conversations with leaders and experts from various fields who are making meaningful contributions to the realization of the United Nations Sustainable Development Goals (UN SDGs). The series will put special emphasis on how diversity and inclusion is critical to organizations' sustainability efforts.
In each webinar, TerraScale will partner with a variety of experts across a spectrum of industries, including finance, technology, engineering, real estate and more, for a live discussion and Q&A. Speakers and themes will vary week to week, but the overall subject will remain constant: what can we do to achieve the UN SDGs and how do we make these goals more core to our organizations? Each webinar will offer new insights and feature the actionable takeaways on these subjects.
"The UN SDGs are a call to action to end poverty and inequality, protect the planet, as well as to ensure that all people, regardless of race, gender or sexual orientation, enjoy health, justice and prosperity," said Dr. Todd Jenkins, TerraScale investor and Senior Advisor. "Economic concerns are tied with environmental and social concerns. At a time of ever growing social, environmental and resource challenges, people, planet, and profit are never disconnected. Achieving this triple bottom line is what we will focus on in this series."
The concept of the SDG Acceleration Series was developed by a group of TerraScale's African American shareholders, executives and advisors alongside Lindsey Carnett, a Senior Advisor to TerraScale and the CEO and President of Marketing Maven, a Native American, woman-owned marketing and PR firm.
"As investors and leaders of a company centered around accelerating the transition to a more sustainable planet, we believe there is an impetus for us to create a platform where we can share the practices and knowledge that will enable others to participate in the realization of the UN SDGs," said Adriant Harrison, EVP, Office of the CEO at TerraScale. "We hope the series enables other organizations and individuals to create an impact."
The webinar series will cover topics like:

Structured finance as a tool for increasing investment in sustainable projects.
The power of Public-Private-Partnerships in accelerating the development of green infrastructure.
How increasing diversity and inclusion in the workplace can lead to better economic opportunities for minorities which will bring more sustainability outcomes.
Speakers will be announced prior and will include entrepreneurs, technologists, corporate leaders, bankers, government officials and more.
The series is free of charge and the first webinar will take place Thursday, March 30, 2023, at 12pm PT. Webinars will subsequently be posted across TerraScale's social media channels as well.
About TerraScale:
TerraScale is a green technology and infrastructure development company reinventing the future of global sustainable development models. TerraScale places green energy, digital infrastructure, and cybersecurity at the center of its infrastructure projects and solutions. Bringing together the best-in-class partners and service providers across technology, green engineering, cybersecurity, real estate, energy, construction firms and more, TerraScale modernizes businesses and communities around the world - creating solutions and infrastructure that are future-proofed. TerraScale's Project Energos is the winner of five prestigious design and architecture awards. For more information, visit https://terrascale.org/.