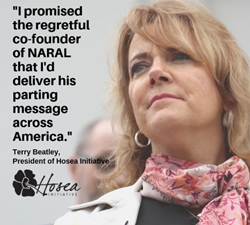 And what if we've been wrong — if the Court should soon reverse itself on the abortion issue in the light of changing times and or new scientific evidence? What an incalculable injustice will have been perpetrated. What an immeasurable irretrievable loss will have been suffered. - Dr. Nathanson
LANCASTER, Va. (PRWEB) May 28, 2019
Hosea Initiative (http://www.Hosea4You.org) is a pro-life non-profit organization with a mission – to fulfill a promise made to repentant NARAL Pro-Choice America founder Dr. Bernard Nathanson.
In a rare interview on December 1, 2009, terminally-ill, 83-year-old Dr. Bernard Nathanson confided in Terry Beatley the tactics he used with the intent of deceiving America into believing that abortion is "women's healthcare". He was the last surviving cofounder of NARAL Pro-Choice America who was once known as America's "Abortion King". Deeply regretting unleashing the "abortion monster", he instructed Terry to teach America the 8 points of propaganda and to deliver his parting message about love. All of this can be found in detail in her book, What If We've Been Wrong? Keeping my promise to America's 'Abortion King'. (Terry Beatley What If We've Been Wrong, Guiding Light Books, 2016) (https://guidinglightbooks.com/product/what-if-weve-been-wrong) As Roe v Wade teeters toward collapse, it seems quite timely to consider what the father of America's industry of abortion wanted every American to know.
The strategy Dr. Nathanson implemented was as follows:
First, Dr. Nathanson admitted in an interview "what [he and NARAL] knew to be true that an abortion kills an existing human being"; therefore, they framed the debate around "choice" to pivot away from the fact that Dr Nathanson felt they were advocating for legal homicide knowing full well "it" was a baby and "it" was not the mother's body. (Nathanson's statement to South Dakotan's - https://www.youtube.com/watch?v=1xfEoqGeliA&feature=youtu.be )
Second, Dr. Nathanson, with the help of a public relations firm, invented many slogans reflecting the messaging "My body, My choice" used to completely ignore and dehumanize the unborn child and focus solely on the woman. (Bernard N. Nathanson, Aborting America, Doubleday & Company, 1979, p.171)
Third, they used the media which nursed on every word Dr. Nathanson spoke, for he was a medical doctor who pretended to have much authority on the matter of abortion. Eventually, he did have authority to speak on the matter being personally responsible for the death of 75,000 babies, including two of his own. (Bernard N. Nathanson, M.D., The Abortion Papers, Frederick Fell Publishers, 1983, p. 7-109)
Fourth, claimed Nathanson, "We aroused enough sympathy to sell our program of permissive abortion by fabricating the number of illegal abortions done annually in the U.S. The actual figure was approaching 100,000 but the figure we gave to the media repeatedly was 1,000,000. Repeating the big lie often enough convinces the public. The number of women dying from illegal abortions was around 200–250 annually. The figure we constantly fed to the media was 10,000." (David Kupelian - Nathanson interview republished WND, Jan 2019 https://www.wnd.com/2019/01/my-interview-with-the-doctor-who-gave-america-legalized-abortion )
Fifth, Dr. Nathanson told the media that 60% of Americans wanted abortion-on-demand legalized. Terry asked him where he got that statistic and he said he "pulled it out of thin air" knowing that he needed to quote above 50% percent in order to sway public opinion. According to his book, The Abortion Papers, the real statistic was 1/2 of one percent of Americans wanted legalized abortion. (Bernard N. Nathanson, M.D., The Abortion Papers: Inside the Abortion Mentality, Frederick Fell Publishers, 1983)
Sixth, he repeated the lies in the media. As you well know, if a lie is repeated often enough, it begins to sound like the truth. (Bernard N. Nathanson, M.D., The Abortion Papers: Inside the Abortion Mentality, Frederick Fell Publishers, 1983, p. 7-109)
Seventh, Dr. Nathanson justified his demand by claiming that women who want abortions are going to procure them whether they are legal or not. As soon as abortion was decriminalized in 1970 under the lie that "It's not a baby – just a clump of cells", New York's abortion numbers sky-rocketed to close to 250,000. After Roe v Wade in 1973, abortion spiked ten-fold from under 100,000 per year to well over 1,000,000 per year and has hovered there ever since. (Terry Beatley, What If We've Been Wrong, Guiding Light Books, 2016,)
The eighth point was named "The Catholic Strategy." NARAL knew that in order to secure and sustain an abortion law victory in New York, a significant portion of Catholic voters would have to be persuaded to support pro-abortion candidates even if they did not like the idea of killing babies. Because of the nearly 2,000-year-old magisterium declaring abortion to be an intrinsic evil, NARAL was faced with a problem: how to convince enough Catholics to support abortion – politically. (Bernard N. Nathanson, M.D., The Abortion Papers: Inside the Abortion Mentality, Frederick Fell Publishers, 1983, p. 179)
So, Dr. Nathanson and Lawrence Lader devised four tactics known as "The Catholic Strategy" which allowed them to "use [Catholics] with great effect." Dr. Nathanson described it as "the most brilliant political strategy of all times." These tactics aimed to shift enough Catholic voters to support pro-abortion candidates by: 1) blaming the Pope, bishops and priests anytime a woman died due to complications of an illegal abortion, 2) emphasizing Catholic politicians who were softening their position against abortion, 3) supporting Catholic candidates who were in support of decriminalizing abortion, and 4) implementing the "Catholic Straddle" which persuaded Catholics, politicians and voters that they could straddle the fence on this issue by remaining "personally" against abortion, but vote with the idea that every woman deserves the right the choose [to kill her baby] and make this decision with her doctor…fathers excluded, by the way. (Bernard N. Nathanson, M.D., The Abortion Papers: Inside the Abortion Mentality, Frederick Fell Publishers, 1983, p. 179)
This is how and why over 60 million babies have been slaughtered on the altar of "choice". That's approximately 1,875,000 pounds of human flesh or 937.5 tons of babies utterly destroyed, much of which is now sold on the secondary market in the name of "research". (Check Your Fact.com, July 2018 https://checkyourfact.com/2018/07/03/fact-check-60-million-abortions/ ) (New York Times June 2015 https://www.nytimes.com/2015/07/28/health/fetal-tissue-from-abortions-for-research-is-traded-in-a-gray-zone.html )
On January 22, 1975, on the second anniversary of Roe v Wade, Dr. Nathanson resigned from NARAL stating in his never-seen-before resignation letter now published in Terry's book, "…And what if we've been wrong? — if the Court should soon reverse itself on the abortion issue in the light of changing times and/or new scientific evidence? What an incalculable injustice will have been perpetrated. What an immeasurable irretrievable loss will have been suffered. The annual dues of NARAL are ten dollars and hubris of certainty. Regretfully, I can no longer afford those dues. Sincerely, Bernard N. Nathanson, M.D."
Dr. Bernard Nathanson's last words to Terry were, "Continue teaching the strategy of how I deceived America, but also deliver this special message. Tell America that the co-founder of NARAL says to 'Love one another. Abortion is not love. Stop the killing. The world needs more love. I'm all about love now.'"
About Hosea Initiative: Terry Beatley promised Dr. Nathanson after he accepted the evil he helped unleash, that she would reveal the eight-point scheme he used to deceive America. To help fulfill this promise, Terry established Hosea Initiative, an educational 501(c) 3. She named the organization after the Bible verse Hosea 4:6 "My people are destroyed for lack to knowledge."
http://www.Hosea4You.org Hosea: P.O. Box 56, Lancaster, Virginia 22503 info@hosea4you.org