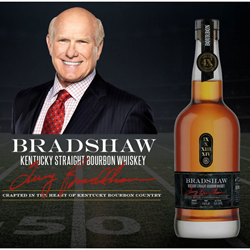 OWENSBORO, Ky. (PRWEB) September 10, 2020
NFL legend Terry Bradshaw is tackling an innovative new partnership for his signature spirit, Terry Bradshaw's Kentucky Straight Bourbon Whiskey. Bradshaw's highly-rated bourbon is now available for purchase on GrapeStars, a one-of-a-kind app and marketplace specializing in celebrity wines and spirits.
Developed to connect consumers with wines and spirits crafted by their favorite A-list celebrities through a virtual direct-to-consumer sales channel, GrapeStars showcases a portfolio of more than 350 specialty products. The game-changing app allows users to explore premium beverages, now available nationwide with the convenience of home delivery.
Bradshaw announced the exciting news on his Facebook that fans can now get his signature bourbon whiskey delivered straight to their doors, just in time to enjoy while tuning in to the premiere of his new E! reality series, The Bradshaw Bunch, on September 17th. "I'm thrilled to share what I believe is the best in Kentucky bourbon with people across the United States as the newest addition to the GrapeStars app," said Bradshaw. "Bourbon connoisseurs are going to love Terry Bradshaw's Kentucky Straight Bourbon Whiskey. Cheers!"
Born in the heart of Kentucky Bourbon Country, Bradshaw Bourbon is distilled by a third-generation master distiller in Owensboro, Kentucky. Bottled at 51.9 percent ABV, a tribute to Bradshaw's passing completion rate of the same number, Bradshaw Bourbon is blended from the finest grains and aged in hand-selected barrels. Vanilla, coffee, banana, leather and campfire notes are available on the nose, with robust flavors of cinnamon, baking spices, vanilla and coconut on the palette with a finish of wood, vanilla and butterscotch.
"I couldn't be more excited to be teaming up with Terry Bradshaw to offer his signature bourbon whiskey," shared Jean-Jean Pelletier, CEO and Co-Founder of GrapeStars. "I've been a fan of Terry Bradshaw for years and am honored to help bring his amazing and delicious bourbon to fans across the nation."
Bradshaw's Kentucky Straight Bourbon Whiskey is available for purchase on GrapeStars at $46.99 per 750 ml bottle. To learn more about Terry Bradshaw's Kentucky Straight Bourbon Whiskey, visit bradshawbourbon.com and tune into his interview on The GrapeStars Podcast.
GrapeStars is available for every iOS or Android device. Once installed, users make a profile and can browse their favorite celebrity brands to be delivered straight to their door. To learn more about GrapeStars visit: https://grapestars.com/.
Terry Bradshaw
The only NFL player with a star on the Hollywood Walk of Fame, Terry Bradshaw continues to entertain fans far and beyond his legendary professional football career with the Pittsburgh Steelers. The four-time Super Bowl champion quarterback, two-time Super Bowl MVP and Pro Football Hall of Fame inductee joined FOX NFL Sunday as co-host and analyst with the show's inception in 1994. In addition to his long-term role as a multi-Emmy and award-winning broadcaster, Bradshaw has starred in movie and television hits including the box office smash comedy romance, "Failure to Launch," "Father Figures," "Better Late than Never," and "The Masked Singer." Bradshaw is also a gospel and country singer, motivational speaker, New York Times best-selling author and breeder of championship quarter horses.
GrapeStars
GrapeStars is a game-changing online specialty wine and premium & craft spirits marketplace which allows celebrities and celebrity endorsed brands to promote their wines and spirits directly to their followers on social media. For the first time ever, celebrities and brands now have a virtual direct-to-consumer sales channel. Through GrapeStars, those brands can now make their products available nationwide without the need to engage themselves with retailers. The one-of-a-kind app is designed to engage users through advanced technology. The user experience is highly interactive and entertaining; fans can discover previously unknown products from celebrities, interact socially with their favorite celebrities, ask our virtual sommelier for recommendations or pairing suggestions, and explore different wine regions around the world via videos and live mapping. The company was founded by serial entrepreneurs and wine aficionados Jean-Jean Pelletier (President and CEO), his brother Robert Pelletier, and their childhood friends Stephan Fortier, Stefan Lindqvist and Charles-André Sauvé.