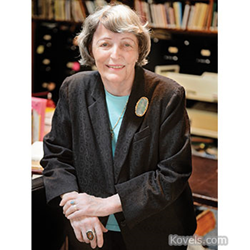 CLEVELAND, Ohio (PRWEB) July 17, 2018
Antiques expert Terry Kovel will be a guest speaker at the 2018 National Antique Bottle Convention & Expo in Cleveland the weekend of August 2 through 5. The annual convention, sponsored by the Federation of Historical Bottle Collectors (FOHBC), is the largest (and most exciting!) antique bottle and glass event of the year. The convention will take place at Cleveland's downtown Huntington Convention Center and the nearby Marriott Key Center Hotel.
Terry is speaking at the banquet at the Marriott Key Center Hotel. She will talk about her work in antiques and collectibles and will share stories about how antiques hobbies and markets have changed. Autographed copies of the 50th anniversary Kovels' Antiques & Collectibles Price Guide 2018 will be available.
The weekend includes meetings, a reception and tour of the Rock & Roll Hall of Fame; various educational seminars, including Privy Digging in Ohio, Glass Blowing, Hemingway Jars, Zanesville Glass, Bitters Collecting and the Erie Canal; the banquet featuring Terry Kovel as well as awards; the FOHBC Electric Bottle Auction with live and online bidding; and the tradition that attendees always look forward to – "Room Hopping" to share collections and stories.
Everything relating to the bottle collecting hobby will be represented at the show – Early American glass, fruit jars, milk bottles, food containers, insulators, target balls, marbles, breweriana and stoneware, as well as go-withs and vintage advertising. Youth activities are also planned for Saturday and Sunday so young people can be introduced to collecting and the objects that hold both stories and history. If you are interested in the club or attending the August 2 – 5 convention, visit the FOHBC website, fohbc.org, for more information. Attendees are encouraged to stop and say hello to Terry!
Terry Kovel is America's foremost authority on antiques and collectibles. She is the well-known columnist and author of more than 100 books on antiques and collecting. The 2018 / 50th anniversary edition of Kovels' Antiques & Collectibles Price Guide is currently available at Kovel.com and local bookstores. Terry Kovel will discuss antiques and collectibles topics with accredited media. Photographs are available. Contact pr(at)kovels(dot)com.
About Kovels.com
Kovels.com, created by Terry Kovel and her daughter, Kim Kovel, provides collectors and researchers with up-to-date and accurate information on antiques and collectibles. The company was founded in 1953 by Terry Kovel and her late husband, Ralph. Since then, the Kovels have written some of America's most popular books and articles about antiques, including the best-selling annual Kovels' Antiques & Collectibles Price Guide. The website, Kovels.com, online since 1998, offers more than a million free prices, and includes a free weekly email, "Kovels Komments." It gives readers a bird's-eye view of the market through the latest news, auction reports, a Marks Dictionary, readers' questions and answers and much more.
Contact Information:
Liz Lillis
216.752.2252
Pr(at)kovels(dot)com