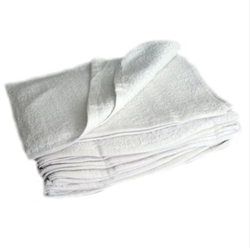 The 12-pack is priced at $12.99.
Vernon Hills, Illinois (PRWEB) November 12, 2013
LadybugSteamCleaners.com, an online retailer that has changed the way people clean around the world, today announced that it is offering Facebook fans 25% off their terry towel 12-pack.
"You get 12 absorbent and washable cotton terry towels," says V. K. Dunlop of LadybugSteamCleaners.com. "Each towel is soft and plush towel, and each measures 14 x 17 inches."
The 12-pack is priced at $12.99. But shoppers who "Like" LadybugSteamCleaners.com on Facebook instantly receive a coupon code to save 25% on the item.
According to Dunlop, the Ladybug Tekno 2350 vapor steam cleaner is their best seller. The Tekno cleans and disinfects virtually any surface with only tap water. Because the Tekno features Ladybug's proprietary patented Thermo Accelerated Nano Crystal Sanitation technology (called TANCS®) as standard equipment, it qualifies as a disinfection device for the U.S. Environmental Protection Agency (EPA).
"When you unpack a Ladybug Tekno 2350, steam vapor system you immediately notice the yellow sticker on one side that says 'EPA Est. No. 82121-WA-01' in bold letters," says Dunlop. "The yellow sticker tells you in a glance that your Tekno qualifies as a disinfection device for the EPA."
LadybugSteamCleaners.com is enabling people and companies to clean in a way that was never before possible—without toxic cleaning products. Shoppers that don't know about Ladybug steam cleaners, and want to, can watch a Ladybug steam cleaner review recently uploaded to YouTube.
Located in Vernon Hills, Illinois, LadybugSteamCleaners.com is a proud member of the Safer Chemicals, Healthy Families coalition, a nationwide effort to protect families from toxic chemicals. To stay safe and avoid toxic chemicals, keep abreast of the latest news by following LadybugSteamCleaners.com on Facebook and Twitter.