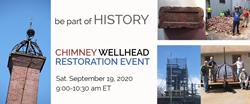 The chimney renovation is a huge step forward in our mission to restore Tesla's only remaining lab into a museum as innovative as he was.
SHOREHAM, N.Y. (PRWEB) September 14, 2020
A 112-year-old chimney crown designed by architect Stanford White for inventor Nikola Tesla's Wardenclyffe laboratory is being restored to its original spot at 9:00 am ET on September 19, 2020, in an event that culminates a renovation project marked by unusual challenges and unexpected discoveries. When Tesla Science Center at Wardenclyffe (TSCW) removed the wrought iron chimney crown in preparation for renovations to the historic lab, they discovered that the chimney was in a critical state of damage. A restoration crew began emergency renovations in February 2020, but work soon halted due to the onset of Covid-19. When the crew resumed work in June, they found an unknown brick arch built into the base of the chimney. Historic architects and engineers were consulted, and further exploration revealed an alcove that is currently being researched for its purpose and possible link to tunnels that Tesla built beneath Wardenclyffe as part of his experiments in wireless power and communications.
While chimney restoration continued over the summer, TSCW volunteers were called in for another emergency project: brick sorting. The restoration crew wanted to use as much of the original brick as possible, but the condition of the bricks varied greatly. Volunteers sorted through thousands of bricks to reclaim those usable for reconstruction and re-purposing, including a future brick campaign that would offer supporters a piece of Tesla's lab and a piece of history. According to Marc Alessi, Executive Director at TSCW, "It's a community effort that displays a remarkable pride of place and dedication to preserving not only Long Island history, but world history. The chimney renovation is a huge step forward in our mission to restore Tesla's only remaining lab into a museum as innovative as he was."
Now that chimney restoration is complete, TSCW will replace the crown, which is commonly referred to as a "wellhead" for its resemblance to the decorative domes that were once placed on water wells. Tesla's wellhead weighs over 5,000 pounds and on September 19 it will be lifted by crane to the spot it was originally placed in 1902. TSCW will host a socially-distanced event onsite to commemorate the renovations and honor the volunteers and supporters of the project, including the Musk Foundation and Robert David Lion Gardiner Foundation. "Nikola Tesla plays a vital role in Long Island's premiere position in the history of inventions and innovations. Brookhaven National Laboratory, Cold Spring Harbor Laboratory and Wardenclyffe, all within a short radius of each other, offer some of the world's greatest scientific achievements. The restoration and recognition of architect Stanford White's structure brings the concept of STEAM education full circle," said Kathryn M. Curran, Executive Director of the Robert David Lion Gardiner Foundation.
The Chimney Wellhead Restoration Event will be live streamed globally on September 19, 2020, beginning at 9:00 am ET; registration for this free event is found at teslasciencecenter.org.
About Tesla Science Center at Wardenclyffe (TSCW)
TSCW is a non-profit 501(c) organization with a mission to develop the site of Nikola Tesla's last remaining laboratory into a transformative global science center that embraces his bold spirit of invention, provides innovative learning experiences, fosters the advancement of new technologies, and preserves his legacy in the Tesla Museum. Contact TSCW at (631) 886-2632 or info@teslasciencecenter.org or teslasciencecenter.org.
# # #