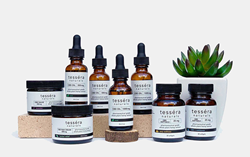 Unfortunately, there are a lot of low quality, unsafe products on the market due to the absence of FDA regulations for CBD.
AUSTIN, Texas (PRWEB) July 30, 2019
Tesséra Naturals is proud to offer the highest grade CBD products available to consumers. Made 100% in the USA using only organically grown hemp and the highest quality CO2 extraction and purification techniques, Tesséra Naturals is becoming one of the most highly trusted brands for the most discerning CBD consumers, as well as first time users.
The vision behind Tesséra Naturals' founders, Jason and Olga Cohen, stemmed from their desire to create the purest CBD products on the market, using only the highest grade ingredients, and to provide full transparency by conducting 3rd party independent lab tests for all of their products.
On a 2018 summer getaway to the mountains of Colorado, the Cohens learned about the amazing health benefits and medicinal properties of CBD and began using CBD oil to manage pain, help with occasional bouts of insomnia and as a daily general wellness routine.
They quickly learned that not all CBD is created equal. "Unfortunately, there are a lot of low quality, unsafe products on the market due to the absence of FDA regulations for CBD," Jason explains. As many uncertainties remain about the legality, quality, and safety of this new "miracle cure", the Cohens set out to develop products for those seeking premium quality hemp CBD products without the risks.
With adherence to the highest standards of quality and safety from seed to bottle, Tesséra Naturals has been growing at a rapid pace online and is now launching a wholesale program, beginning in their hometown of Austin, TX and expanding to additional markets in the coming months. "As the popularity of CBD continues to explode, we feel that Austin's progressive cutting-edge culture is the perfect market to expand our presence to the retail shelves," says Olga.
What Sets Tesséra Naturals Apart?
All Tesséra Naturals products, which include tinctures, capsules, topicals and pet products adhere to the following standards:

Organically grown phytocannabinoid-rich hemp from fully compliant US Farm
Manufactured in GMP compliant and FDA registered facility
Solvent free extraction methodology to maintain the whole plant profile
Nano-emulsion technology to ensure optimal absorption and bioavailability
Non GMO and free of pesticides, metals or harsh chemicals
3rd party independent lab testing for potency, quality and safety
About CBD
CBD or "Cannabidiol" (pronounced Cana-bih-DIE-all) is one of 100+ natural compounds found in the cannabis plant called "cannabinoids", and have been used for their medicinal qualities for ages, with CBD being the most powerful in this respect. CBD derived from hemp has been deemed federally legal by the 2018 Farm Bill, as long as the hemp contains less than .3% THC.
CBD has been increasingly shown to provide many health benefits such managing anxiety and stress, pain relief, improving sleep patterns, appetite, focus, memory, immunity response and more.
About Tesséra Naturals
Tesséra Naturals is a family owned and operated company based in Austin, Texas and offers premium quality organic whole plant hemp-based CBD products. Its founding principles include promoting a natural and healthy lifestyle which consists of a clean diet of primarily unprocessed food, regular exercise and holistic medicine whenever possible.
Tesséra Naturals is passionate about educating the community about health and wellness and is committed to giving back by supporting various non-profit organizations. It also offers senior citizen and military/veteran discounts. All Tesséra Naturals products can be purchased online with a 100% money-back guarantee and free shipping.
Tesséra Naturals products are THC free and can be shipped to all 50 states.
For more information, visit tesseranaturals.com or visit the company's social media profiles: Facebook, Instagram, Twitter, Pinterest, Linkedin