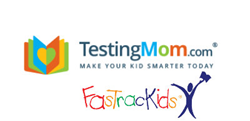 Combined, I will believe we can do even greater things together to benefit the children within NYC and eventually beyond.
New York, New York (PRWEB) April 12, 2017
TestingMom.com®, the premier on-line educational platform that provides parents with content and expertise to help their children prepare for gifted and talented and private school admissions testing, proudly announces a new strategic partnership with FasTracKids®, its robust on-line site, FTKNY.com, and its New York City locations. FasTracKids stimulates a child's natural curiosity by developing skills for critical thinking, creativity, communication, collaboration and confidence.
The partnership is a strong strategic fit, leveraging the two leading companies' respective strengths across three main areas:

First, TestingMom.com's online games and original content that helps children ace important tests for gifted and talented and private school admissions
Second, FasTracKids' tutoring expertise in helping New York City children succeed in school and in life through its unique G&T 101 (academic enrichment) and G&T 102 (test prep) classes;
Finally, both companies' commitment to ensure every child receives the best education possible.
Franco Verdino, Regional Director for FasTracKids said, "In searching for ways to improve and evolve to help our G&T students become even more successful in the future, we have formed a partnership with TestingMom.com. Now we can integrate the strengths of our highly qualified and experienced staff, and our teaching techniques and methodologies with the powerful tools, additional training and expertise that Testing Mom has developed. Combined we will offer even greater educational and test prep resources to benefit the children in NYC, eventually expanding nationwide."
Karen Quinn, the Testing Mom, added that "Partnering with FasTracKids is a perfect match for us. We have been looking for a partner with brick and mortar locations to bring our program to young, inquisitive minds. Our program fits perfectly with FasTracKids' mission to unleash the natural curiosity of young minds to make them lifelong learners."
About FasTracKids
FasTracKids is an award-winning innovator in early learning for young children. FasTracKids is the most experienced and largest provider of Gifted & Talented Enrichment Programs and Tutoring in all of NYC. FasTracKids opened its first NYC center in 2003 and also has centers open in over 50 countries worldwide.
About TestingMom.com
Testing Mom, LLC is an online-based membership program for parents seeking skill building and test prep materials for popular tests like the CogAT® test, OLSAT® test, NNAT®-2 test, ITBS® and dozens more. They also provide expert guidance on gifted and talented and private school admissions. The company was founded in 2010 by Karen Quinn, author of the national best-selling The Ivy Chronicles and Testing for Kindergarten and inventor of IQ Fun Pack: Test Prep Disguised as a Game, and Michael McCurdy, one of the most popular "daddy bloggers" in New York City with his New York City Gifted and Talented Blog.