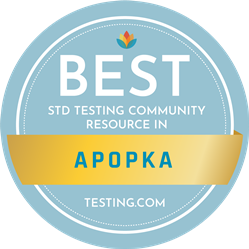 SEATTLE (PRWEB) March 09, 2021
Testing.com, a trusted informational guide for medical lab testing and at-home screening, has published a report on the increasing STD cases and resources for addressing this issue in Apopka. Research experts at Testing.com also evaluated top local organizations with free or low-cost health screening options for residents.
According to the report, three most prevalent STDs in Orange County were chlamydia, gonorrhea, and syphilis. The entire state of Florida had 111,757 reported chlamydia cases in 2019, up from 104,770 in 2018 while reported cases of gonorrhea in Florida jumped from 20,944 in 2014 to 32,644 in 2018. Over the last decade, syphilis cases jumped from 87 in 2010 to 313 in 2019, more than three and a half times the incidence.
The report features the following organizations:
Florida Department of Health in Orange County
832 West Central Boulevard
Orlando, FL 32805
407-858-1445
Orange.floridahealth.gov
Community Health Centers – Apopka Family & OB/GYN
225 East 7th Street
Apopka, FL 32703
Multiple Central Florida locations
407-905-8827
Chcfl.org
Hope & Help
4122 Metric Drive, #800
Winter Park, FL 32792
407-645-2577
Hopeandhelp.org
Miracle of Love
741 West Colonial Drive
Orlando, FL 32804
Multiple Orange County locations
407-843-1760
Miracleofloveinc.org
Planned Parenthood
11500 University Boulevard
Orlando, FL 32817
505-272-1312
Unmtruman.com
Testing.com's report aims to educate the public about the current health crisis and encourage people in the community to reach out to local organizations for testing and treatment options. To view the full report, please visit https://www.testing.com/std-testing/apopka-fl/
ABOUT TESTING.COM
Testing.com is a trusted guide for lab and at-home testing information and resources. The online platform was launched in 2018 to help educate consumers about various lab tests and health screenings. Testing.com uses comprehensive, data-driven research to deliver content that includes articles on common conditions/diseases, current lab test and at-home screening options, medical testing fees and more. The site is produced by a team of experts that work with healthcare professionals to review and provide the most accurate and up-to-date lab testing information. To learn more, visit https://www.testing.com/.