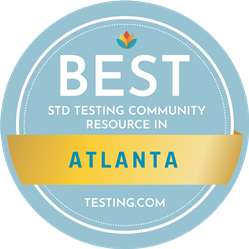 SEATTLE (PRWEB) March 09, 2021
Testing.com, a trusted informational guide for medical lab testing and at-home screening, has published a report on the increasing STD cases and resources for addressing this issue in Atlanta. Research experts at Testing.com also evaluated top local organizations with free or low-cost health screening options for residents.
According to the report, Atlanta residents are increasingly reporting STDs, with Fulton County showing some of the highest percentage rates in the state. The state of Georgia has seen a steady increase in reported incidences of chlamydia while reported incidents of gonorrhea slowly declined throughout the state. Before the recent uptick in syphilis outbreaks in Fulton County and across the United States, the disease was nearing extinction.
The report features the following organizations:
Empowerment Resource Center
230 Peachtree Street NW, Suite 1800
Atlanta, GA 30303
404-526-1148
Erc-inc.org
Someone Cares
236 Forsyth Street, Suite 201 & 204
Atlanta, GA 30303
678-921-2706
Someonecaresatl.org
Planned Parenthood – East Atlanta Health Center
440 Moreland Avenue SE
Atlanta, GA 30316
404-688-9300
Plannedparenthood.org
Fulton County Public Health
10 Park Place South S.E., 5th Floor
Atlanta, GA 30303
404-613-1401
Fultoncountyboh.org
Fulton County Board of Health's Family Planning Program
3700 Martin Luther King Drive S.W.
Atlanta, GA 30331
Multiple Atlanta locations
404-613-4215
Fultoncountyga.gov
Testing.com's report aims to educate the public about the current health crisis and encourage people in the community to reach out to local organizations for testing and treatment options. To view the full report, please visit https://www.testing.com/std-testing/atlanta-ga/
ABOUT TESTING.COM
Testing.com is a trusted guide for lab and at-home testing information and resources. The online platform was launched in 2018 to help educate consumers about various lab tests and health screenings. Testing.com uses comprehensive, data-driven research to deliver content that includes articles on common conditions/diseases, current lab test and at-home screening options, medical testing fees and more. The site is produced by a team of experts that work with healthcare professionals to review and provide the most accurate and up-to-date lab testing information. To learn more, visit https://www.testing.com/.