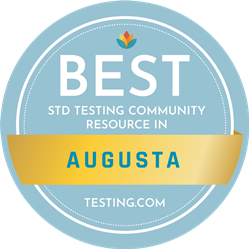 SEATTLE (PRWEB) March 09, 2021
Testing.com, a trusted informational guide for medical lab testing and at-home screening, has published a report on the increasing STD cases and resources for addressing this issue in Augusta. Research experts at Testing.com also evaluated top local organizations with free or low-cost health screening options for residents.
According to the report, three most common STDs reported in Augusta are chlamydia, gonorrhea, and syphilis. Chlamydia is the most commonly recorded STD in Georgia, and it is particularly prevalent in Richmond County while in 2018, Georgia ranked 15th in the nation for gonorrhea. Georgia ranked fourth in the nation for syphilis disease, which had a rate of 15.4 compared to the national average of 10.8.
The report features the following organizations:
Medical Associates Plus
2050 Walton Way
Augusta, GA 30904
706-434-1590
Mapbt.com
Richmond County Health Department
950 Laney-Walker Blvd.
Augusta, GA 30901
706-721-5900
Multiple Augusta locations
Ecphd.com
Rural Health Services, Incorporated
Beech Island, SC 29842
803-593-9283
Ruralhs.org
Testing.com's report aims to educate the public about the current health crisis and encourage people in the community to reach out to local organizations for testing and treatment options. To view the full report, please visit https://www.testing.com/std-testing/augusta-ga/
ABOUT TESTING.COM
Testing.com is a trusted guide for lab and at-home testing information and resources. The online platform was launched in 2018 to help educate consumers about various lab tests and health screenings. Testing.com uses comprehensive, data-driven research to deliver content that includes articles on common conditions/diseases, current lab test and at-home screening options, medical testing fees and more. The site is produced by a team of experts that work with healthcare professionals to review and provide the most accurate and up-to-date lab testing information. To learn more, visit https://www.testing.com/.