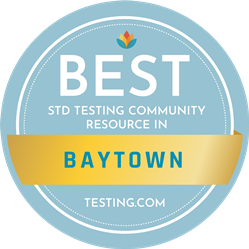 SEATTLE (PRWEB) March 09, 2021
Testing.com, a trusted informational guide for medical lab testing and at-home screening, has published a report on the increasing STD cases and resources for addressing this issue in Baytown. Research experts at Testing.com also evaluated top local organizations with free or low-cost health screening options for residents.
According to the report, chlamydia remains the most frequently recorded STD in Texas, Harris County, and Baytown, followed by gonorrhea and then syphilis. Texas had 146,510 chlamydial infections in 2018 while Texas' rate of infection was lower than the national average at 166.9 per 100,000, Harris County was higher at 187.6 per 100,000. Harris County ranked fifth in the nation for primary and secondary syphilis infections, with 565 cases resulting in 12.1 infections per 100,00.
The report features the following organizations:
Harris County Public Health – Health and Wellness Clinics
2223 West Loop South
Houston, TX 77027
Multiple Harris County locations
713-212-6800
Publichealth.harriscountytx.gov
Legacy Community Health
2401 Main Street
Houston, TX 77002
Multiple Harris County locations
832-730-4422
Legacycommunityhealth.org
FLAS
6666 Harwin Drive, Suite 370
Houston, TX 77036
713-772-2366
Flasinc.org
Planned Parenthood Gulf Coast
4600 Gulf Freeway
Houston, TX 77023
Multiple Houston area locations
800-230-7526
Plannedparenthood.org
AIDS Healthcare Foundation - Houston
1213 Hermann Drive, Suite 620
Houston, TX 77004
713-520-2338
Aidshealth.org
Testing.com's report aims to educate the public about the current health crisis and encourage people in the community to reach out to local organizations for testing and treatment options. To view the full report, please visit https://www.testing.com/std-testing/baytown-tx/
ABOUT TESTING.COM
Testing.com is a trusted guide for lab and at-home testing information and resources. The online platform was launched in 2018 to help educate consumers about various lab tests and health screenings. Testing.com uses comprehensive, data-driven research to deliver content that includes articles on common conditions/diseases, current lab test and at-home screening options, medical testing fees and more. The site is produced by a team of experts that work with healthcare professionals to review and provide the most accurate and up-to-date lab testing information. To learn more, visit https://www.testing.com/.