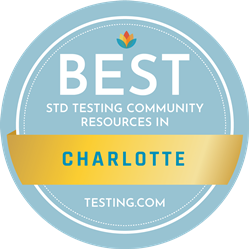 SEATTLE (PRWEB) March 12, 2021
Testing.com, a trusted informational guide for medical lab testing and at-home screening, has published a report on the increasing STD cases and resources for addressing this issue in Charlotte, including top local organizations with free or low-cost health screening options for residents.
According to the report, three most common STDs in Charlotte are chlamydia, gonorrhea, and syphilis. Mecklenburg County ranked 31st in the country for documented cases of chlamydia, with 9,182 reports that year while the United States had considerably fewer gonorrhea infections than chlamydia in 2018, it experienced a more significant percentage increase over the number of cases disclosed in 2014. Syphilis cases increased by 81% nationwide between 2014 and 2018. Of the infections disclosed in 2018, 30% were in primary and secondary stages.
The report features the following organizations:
Reserve Health
135 West 10th Street
Charlotte, NC 28202
704-626-3994
Reservehealth.com
RAO Community Health
321 West 11th Street
Charlotte, NC 28202
704-237-8793
Raoassist.org
Mecklenburg County Health Department
249 Billingsley Road
Charlotte, NC 28211
704-336-4700
Multiple Charlotte locations
Mecknc.gov
Charlotte Health Center
700 South Torrence Street
Charlotte, NC 28204
704-536-7233
Plannedparenthood.org
C.W. Williams Community Health Center, Inc.
3333 Wilkinson Boulevard
Charlotte, NC 28208
704-393-7720
Cwwilliams.org
Testing.com's report aims to educate the public about the current health crisis and encourage people in the community to reach out to local organizations for testing and treatment options. To view the full report, please visit https://www.testing.com/std-testing/charlotte-nc/
ABOUT TESTING.COM
Testing.com is a trusted guide for lab and at-home testing information and resources. The online platform was launched in 2018 to help educate consumers about various lab tests and health screenings. Testing.com uses comprehensive, data-driven research to deliver content that includes articles on common conditions/diseases, current lab test and at-home screening options, medical testing fees and more. The site is produced by a team of experts that work with healthcare professionals to review and provide the most accurate and up-to-date lab testing information. To learn more, visit https://www.testing.com/.