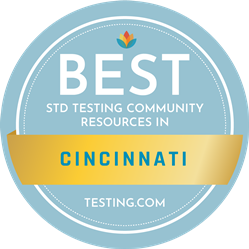 SEATTLE (PRWEB) March 12, 2021
Testing.com, a trusted informational guide for medical lab testing and at-home screening, has published a report on the increasing STD cases and resources for addressing this issue in Cincinnati, including top local organizations with free or low-cost health screening options for residents.
According to the report, Hamilton County, where Cincinnati is located, saw a holding pattern in chlamydia cases from 2015 to 2018 while Gonorrhea seems to be equally distributed between the genders across Ohio, with rates of 228.2 for males and 204.9 for females per 100,000 persons. In Ohio, the rate of infection per 100,000 persons stayed at 16.4 for syphilis between 2017 and 2018, with five fewer cases in total.
The report features the following organizations:
Caracole
4138 Hamilton Avenue
Cincinnati, Ohio 45223
513-761-1480
Planned Parenthood
2314 Auburn Avenue
Cincinnati, OH 45219 OH
Multiple Cincinnati locations
513-287-6484
Cincinnati Health Department
3917 Spring Grove Avenue
Cincinnati, OH 45223
Multiple Cincinnati locations
513-357-7320
Pregnancy Center East
4760 Madison Road
Cincinnati, Ohio 45227
513-321-3100
Over-The-Rhine MediCenter, Ltd.
308 Reading Road, Suite 102
Cincinnati, Oh 45202
513-241-5234
Hamilton County Public Health
184 East McMillan Street
Cincinnati, OH 45219
513-946-7600
University of Cincinnati Health Services
Richard E. Lindner Center
2751 O'Varsity Way, 3rd Floor
Cincinnati, OH 45221
513-556-2564
Testing.com's report aims to educate the public about the current health crisis and encourage people in the community to reach out to local organizations for testing and treatment options. To view the full report, please visit https://www.testing.com/std-testing/cincinnati-oh/.
ABOUT TESTING.COM
Testing.com is a trusted guide for lab and at-home testing information and resources. The online platform was launched in 2018 to help educate consumers about various lab tests and health screenings. Testing.com uses comprehensive, data-driven research to deliver content that includes articles on common conditions/diseases, current lab test and at-home screening options, medical testing fees and more. The site is produced by a team of experts that work with healthcare professionals to review and provide the most accurate and up-to-date lab testing information. To learn more, visit https://www.testing.com/.