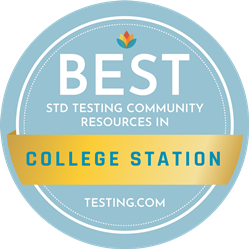 SEATTLE (PRWEB) March 12, 2021
Testing.com, a trusted informational guide for medical lab testing and at-home screening, has published a report on the increasing STD cases and resources for addressing this issue in College Station, including top local organizations with free or low-cost health screening options for residents.
According to the report, that three most common STDs in College Station are chlamydia, gonorrhea, and syphilis. Chlamydia is the most common sexually transmitted disease in the nation as a whole, and in College Station, and it's particularly prevalent among adolescents and young adults aged 15-24 while gonorrhea is the second most common STD in College Station, diagnosed in 202 residents in the city in 2018, giving the city a ranking of 31st out of the top 50 cities in Texas for this infection. Nine of the cases in the county were primary and secondary syphilis, and two of the P&S diagnoses were in College Station.
The report features the following organizations:
Texas Department of State Health Services Public Health Region 7
813 South State Street, Ste. 105
Madisonville, TX 77864
936-348-3593
Dshs.texas.gov
Brazos County Health District Sexual Wellness Clinics
201 North Texas Avenue
Bryan, TX 77803
979-361-4440
Brazoshealth.org
Texas A&M University Medical Clinic
311 Houston Street, Building 520
College Station, TX 77843
Shs.tamu.edu
Brazos Valley Urgent Care
2911 South Texas Avenue, Suite #103
College Station, TX 77845
979-764-2882
Bvuc.net
Testing.com's report aims to educate the public about the current health crisis and encourage people in the community to reach out to local organizations for testing and treatment options. To view the full report, please visit https://www.testing.com/std-testing/college-station-tx/
ABOUT TESTING.COM
Testing.com is a trusted guide for lab and at-home testing information and resources. The online platform was launched in 2018 to help educate consumers about various lab tests and health screenings. Testing.com uses comprehensive, data-driven research to deliver content that includes articles on common conditions/diseases, current lab test and at-home screening options, medical testing fees and more. The site is produced by a team of experts that work with healthcare professionals to review and provide the most accurate and up-to-date lab testing information. To learn more, visit https://www.testing.com/.