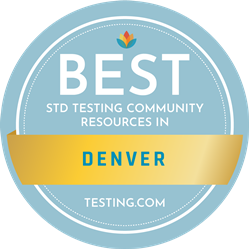 SEATTLE (PRWEB) March 12, 2021
Testing.com, a trusted informational guide for medical lab testing and at-home screening, has published a report on the increasing STD cases and resources for addressing this issue in Denver, including top local organizations with free or low-cost health screening options for residents.
According to the report, three most common STDs, chlamydia, gonorrhea, and syphilis are up dramatically for the fourth consecutive year. Although it's seen the smallest increase by percentage, chlamydia remains the most prevalent STD in Denver while the rate of gonorrhea infections grew more sharply than both chlamydia and syphilis combined. In Denver County, reported cases of syphilis climbed 75% since 2014 with 405 new cases in 2018.
The report features the following organizations:
Denver Public Health
605 Bannock Street
Denver, CO 80204
303-602-3540
Denverpublichealth.org
HeyDenver
1720 Pearl Street
Denver, CO 80203
303-962-2880
Heydenver.org
Denver Central Planned Parenthood
921 E 14th Avenue
Denver, CO 80218
Multiple Denver locations
303-832-5069
Plannedparenthood.org
Alternatives Pregnancy Center
1440 Blake Street, Suite 200
Denver, CO 80202
Multiple Denver locations
303-295-8815
Youhavealternatives.org
It Takes A Village
1475 Lima Street
Aurora, CO 80010
303-367-4747
Ittakesavillagecolorado.org
Vivent Health
5250 Leetsdale Drive, Suite 300
Denver, CO 80246
303-393-8050
Viventhealth.org
The Center on Colfax
1301 East Colfax Avenue
Denver, CO 80218
303-733-7743
Lgbtqcolorado.org
Testing.com's report aims to educate the public about the current health crisis and encourage people in the community to reach out to local organizations for testing and treatment options. To view the full report, please visit https://www.testing.com/std-testing/denver-co/
ABOUT TESTING.COM
Testing.com is a trusted guide for lab and at-home testing information and resources. The online platform was launched in 2018 to help educate consumers about various lab tests and health screenings. Testing.com uses comprehensive, data-driven research to deliver content that includes articles on common conditions/diseases, current lab test and at-home screening options, medical testing fees and more. The site is produced by a team of experts that work with healthcare professionals to review and provide the most accurate and up-to-date lab testing information. To learn more, visit https://www.testing.com/.