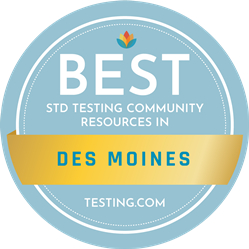 SEATTLE (PRWEB) March 12, 2021
Testing.com, a trusted informational guide for medical lab testing and at-home screening, has published a report on the increasing STD cases and resources for addressing this issue in Des Moines, including top local organizations with free or low-cost health screening options for residents.
According to the report, despite Iowa being a rural state, incidences of STDs are following the national trend. Chlamydia infections have increased for the last five years in Polk County, according to the Polk County Health Department's Chlamydia 2015-2019 Polk County Report while The Polk County Health Department's Gonorrhea 2015-2019 Polk County Report documented a startling 121.8% increase in gonorrhea cases. After an encouraging drop of 32.4% in total syphilis cases in 2018, Polk County cases took a dramatic jump in 2019.
The report features the following organizations:
Polk Health Department
1907 Carpenter Avenue
Des Moines, IA 50314
515-286-3798
Polkcountyiowa.gov
Planned Parenthood of the Heartland
2304 University Avenue
Des Moines, IA 50311
Multiple Des Moines locations
877-811-7526
Plannedparenthood.org
InnerVisions HealthCare
500 Army Post Road, Suite 100
Des Moines, Iowa 50315
Multiple Des Moines locations
515-440-2273
Innervisionshealthcare.org
The Project of Primary Health Care
1200 University Avenue, #120
Des Moines, IA 50314
515-248-1595
Phctheproject.org
Agape Pregnancy Resource Center
2550 Martin Luther King Jr Parkway
Des Moines, IA 50310
515-255-0243
Agapedsm.com
Testing.com's report aims to educate the public about the current health crisis and encourage people in the community to reach out to local organizations for testing and treatment options. To view the full report, please visit https://www.testing.com/std-testing/des-moines-ia/
ABOUT TESTING.COM
Testing.com is a trusted guide for lab and at-home testing information and resources. The online platform was launched in 2018 to help educate consumers about various lab tests and health screenings. Testing.com uses comprehensive, data-driven research to deliver content that includes articles on common conditions/diseases, current lab test and at-home screening options, medical testing fees and more. The site is produced by a team of experts that work with healthcare professionals to review and provide the most accurate and up-to-date lab testing information. To learn more, visit https://www.testing.com/.