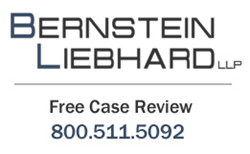 This is just one of dozens of testosterone treatment lawsuits pending in U.S. courts that claim these medications can cause heart attacks, strokes and other heart problems.
New York, New York (PRWEB) May 23, 2014
Testosterone treatment lawsuits (http://www.injurybeacon.com/testosterone-androgel/lawsuit/) continue to be filed in courts around the country on behalf of men who allegedly suffered life-threatening cardiovascular events due to their use of low testosterone therapy, Bernstein Liebhard LLP reports. Last month, a Delaware man filed suit in the U.S. District Court, Northern District of Illinois, alleging that his father's fatal heart attack was brought on by his use of Axiron and AndroGel. According to the April 8th complaint, the decedent began using AndroGel in October 2011, when he was 58 years old, and switched to Axiron in January 2012. Though he had no history of heart problems prior to starting treatment, he died in April 2012 after suffering a serious heart attack. The testosterone lawsuit accuses the manufacturers of AndroGel and Axiron of making false and misleading statements regarding their safety, though they actually increase a patient's risk of suffering a life-threatening heart attack. (Case No.: 1:14-cv-02495)
"This is just one of dozens of testosterone treatment lawsuits pending in U.S. courts that claim these medications can cause heart attacks, strokes and other heart problems. Our Firm receives inquiries on a regular basis from men who allegedly suffered similar injuries," says Bernstein Liebhard LLP, a nationwide law firm representing the victims of defective drugs and medical devices. The Firm is currently offering free testosterone lawsuit reviews to anyone who may have suffered heart attacks, strokes, deep vein thrombosis, pulmonary embolism, or other serious heart problems allegedly due to the use of prescription testosterone therapies.
Testosterone Lawsuits
Medications like AndroGel and Axiron are used to treat hypogonadism (low testosterone) in men who suffer from the condition due to a related medical issue. In January 2014, the Food & Drug Administration (FDA) announced it was investigating the heart risks potentially associated with low testosterone therapies, after two studies indicated the mediations could increase the risks of heart attacks, strokes, and death in certain men.
According to court documents, more than 80 testosterone lawsuits have been filed in U.S. courts since the FDA issued its alert. Among other things, the complaints claim that men were enticed to use these medications by marketing that positioned low testosterone therapy as a remedy for fatigue, low libido and other symptoms of normal aging. On May 29, 2014, the U.S. Judicial Panel on Multidistrict Litigation (JPML) will hear oral arguments on a motion to consolidate all federally-filed AndroGel lawsuits in a single federal court for coordinated pretrial proceedings. The manufacturers of AndroGel, Axiron and Fortesta have voiced support for the establishment of a multidistrict litigation, but have requested that the proceeding include all federal testosterone claims, regardless of the drugs involved. (In Re: AndroGel Product Liability Litigation, No. 2545, JPML)
Men who used drugs like AndroGel and Axiron many be eligible to file a testosterone treatment lawsuit if they suffered a heart attack, stroke or other heart event allegedly caused by their medication. To learn more about the risks associated with testosterone drugs, please visit Bernstein Liebhard LLP's website. Free, no-obligation legal consultations can be obtained by calling 800-511-5092.
About Bernstein Liebhard LLP
Bernstein Liebhard LLP is a New York-based law firm exclusively representing injured persons in complex individual and class action lawsuits nationwide since 1993. As a national law firm, Bernstein Liebhard LLP possesses all of the legal and financial resources required to successfully challenge billion dollar pharmaceutical and medical device companies. As a result, our attorneys and legal staff have been able to recover more than $3 billion on behalf of our clients. The Firm has been named by The National Law Journal to the Plaintiffs' Hot List, recognizing the top plaintiffs firms in the country, for the past 12 consecutive years. Bernstein Liebhard LLP is the only firm in the country to be named to this prestigious list every year since it was first published in 2003.
Bernstein Liebhard LLP represents the victims of defective drugs and medical devices on a contingency-fee basis, and our clients are never expected to pay attorneys fees unless their case results in a successful recovery on their behalf. New York State's contingency fee cap rules generally limit those fees to 33 1/3% of the total recovery. As a result, the Firm's fees can be significantly lower than those assessed by attorneys in other states, which depending on the law may amount to as much as 40% or more of a plaintiff's recovery.
Bernstein Liebhard LLP
10 East 40th Street
New York, New York 10016
800-511-5092
ATTORNEY ADVERTISING. © 2014 Bernstein Liebhard LLP. The law firm responsible for this advertisement is Bernstein Liebhard LLP, 10 East 40th Street, New York, New York 10016, 800-511-5092. Prior results do not guarantee or predict a similar outcome with respect to any future matter.
Contact Information:
Felecia L. Stern, Esq.
Bernstein Liebhard LLP
info (at) consumerinjurylawyers (dot) com
http://www.injurybeacon.com/
https://plus.google.com/115936073311125306742?rel=author