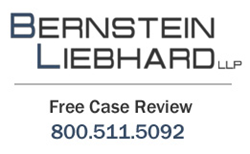 Our Firm has heard from numerous men seeking to file testosterone lawsuits for heart problems they allegedly sustained due to their use of testosterone replacement therapy.
New York, New York (PRWEB) April 21, 2014
As testosterone treatment lawsuits (http://www.testosteronelawsuitcenter.com/ ) continue to mount against the manufacturers of AndroGel, Testim and other prescription low testosterone therapies, Bernstein Liebhard LLP notes that a new motion has been filed with the U.S. Judicial Panel on Multidistrict Litigation (JPML) that seeks the creation of a consolidated proceeding for all federally-filed claims involving this class of medications. According to the April 11th motion, at least 50 testosterone lawsuits have been filed in federal courts around the country that allege the use of testosterone products caused men to suffer heart attacks, strokes, and other serious cardiovascular problems. The motion asserts that the consolidation of these cases before one judge in the U.S. District Court, Eastern District of Louisiana, is appropriate because the lawsuits pose common questions of law and fact, and consolidation or coordination before one court will ensure efficient management of the litigation and avoid duplicative discovery. (In Re: Testosterone Products Liability Litigation, No. 42, JPML)
"Our Firm has heard from numerous men seeking to file testosterone lawsuits for heart problems they allegedly sustained due to their use of testosterone replacement therapy. The potential for a large number of filings involving these medications suggests that the establishment of a multidistrict litigation may be warranted," says Bernstein Liebhard LLP, a nationwide law firm representing the victims of defective drugs and medical devices. The Firm is currently offering free legal reviews to anyone who may have suffered serious heart attacks, strokes, deep vein thrombosis, pulmonary embolism, or other serious heart problems allegedly due to the use of prescription testosterone therapies.
Testosterone Lawsuits
According to the April 11th motion, prescription testosterone creams gels, pills, and injectables are approved to treat hypogonadism, or low testosterone levels, in men who suffer from the condition due to an underlying medical issue. Brand-name medications in this class include:*

AndroGel
Androderm
Axiron
Bio-T-Gel
Delatestryl
Depo-Testosterone
Fortesta
Striant
Testopel
On January 31, 2014, the U.S. Food & Drug Administration (FDA) announced that it was investigating potential heart risks associated with these drugs, after new research suggested that the use of testosterone increases the risk of heart attack, strokes, and death in men over 65-years-old, as well as in younger men with pre-existing heart disease.
Court records indicate that the JPML is already considering a petition to establish a multidistrict litigation for all federally-filed testosterone treatment lawsuits involving AndroGel. Plaintiffs have asked that those cases be transferred to the U.S. District Court, Northern District of Illinois, where most of those claims are pending. The majority of product liability claims involving testosterone products have been filed on behalf of men who used AndroGel. (In Re: AndroGel Product Liability Litigation, No. 36, JPML)
In an Order dated April 14th, the JPML will hear Oral Arguments on the proposed AndroGel consolidation on May 29, 2014, when it convenes its next hearing session in Chicago. It is not clear if the JPML will hear arguments on the motion to consolidate all federal testosterone lawsuits during that session.
Patients who allegedly suffered heart attacks, strokes, dangerous blood clots, or other life-threatening heart problems due to low testosterone therapy may be entitled to compensation. To learn more about filing a testosterone treatment lawsuit, please visit Bernstein Liebhard LLP's website. Free, no-obligation legal consultations can be obtained by calling 800-511-5092.
*http://www.accessdata.fda.gov/scripts/cder/drugsatfda/index.cfm?fuseaction=Search.SearchAction&SearchType=BasicSearch&searchTerm=testosterone&Search_Button=Submit
About Bernstein Liebhard LLP
Bernstein Liebhard LLP is a New York-based law firm exclusively representing injured persons in complex individual and class action lawsuits nationwide since 1993, including those who have been harmed by dangerous drugs, defective medical devices and consumer products. The firm has been named by The National Law Journal to the Plaintiffs' Hot List, recognizing the top plaintiffs firms in the country, for the past 12 consecutive years. Bernstein Liebhard LLP is the only firm in the country to be named to this prestigious list every year since the list was first published in 2003.
Bernstein Liebhard LLP
10 East 40th Street
New York, New York 10016
800-511-5092
ATTORNEY ADVERTISING. © 2014 Bernstein Liebhard LLP. The law firm responsible for this advertisement is Bernstein Liebhard LLP, 10 East 40th Street, New York, New York 10016, 800-511-5092. Prior results do not guarantee or predict a similar outcome with respect to any future matter.
Contact Information:
Felecia L. Stern, Esq.
Bernstein Liebhard LLP
info (at) consumerinjurylawyers (dot) com
http://www.testosteronelawsuitcenter.com/
https://plus.google.com/115936073311125306742?rel=author