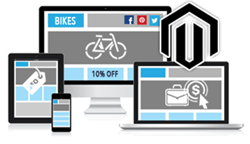 Houston Magento Developer Offers Gift Card/Certificate Extension
Houston, TX (PRWEB) June 30, 2014
Sales Secret LLC, an E-Commerce Development company that offers easy options to hire a Houston Magento Developer, is pleased to offer installation and configuration of a Gift Card/Gift Certificate extension for Magento.
Sales Secret LLC, a Houston Magento Developer, is excited to offer e-commerce website vendors the option to sell Gift Cards/Certificates for sale on their Magento E-Commerce website.
Magento Gift Card/Certificate Extension Features Include:
New gift card product type

The module allows creation of 'gift card' product type and sell gift certificates online. Both guests and registered customers can get certificates and use the bought amount themselves or present to anyone to make purchases in the store.
Different gift cards values
Create cards with open and fixed values. If fixed values are specified for the product, a customer will be able to buy the certificate for any predefined price selected in the dropdown. If a gift card has open value, visitors can define their own value. The administrator can set a limit on the available range of values.
Send gift card code via email or post-office
Gift card codes can be sent to a recipient by email or post-office. It depends on the type of the gift card product:

virtual
physical
combined
The message left by the buyer of the gift card will be displayed in the email as well.
Let customers checkout with the card
A gift card recipient can insert a code in a separate block added to the shopping cart. Several certificates can be applied together during one checkout and if the certificate value exceeds grand total, the rest of amount is stored for further usage.
Control gift card duration
Specify the number of days each certificate is valid and can be used at the store to motivate recipients spend it as quickly as possible.
Check gift card balance and status at the shopping cart and in My Account area
Clients can track the status of their gift card code and the available amount in a separate Gift Card tab in My Account area and at the shopping cart.
Create gift card codes from the backend
The module allows creation of gift card codes manually in the backend area without adding a new product.
View code using statistics
After the gift card code is generated, all the statistics connected with it are viewable. The history of code using includes the date of code creating, purposes, and amount of using.
Add gift card to any customer from the backend
Create orders with gift cards for existing customers from the backend. Just enter email and name of sender/recipient, code value, and the gift card will be sent to required customer.
Manage the look of the code
Configure the following code parameters:

length
format (alphanumeric, numeric, or alphabetical)
prefix
suffix
separator and quantity of characters inserted after
Update code balance manually

Easily increase or decrease the amount of gift code. Just enter the required value while editing the code and the gift certificate will become available again.
Configure when to generate gift card code

With the help of the module, generating gift card code directly after order item is invoiced or ordered.
Gift cards amount can be refunded
If a customer refunds an order, an administrator can decide what to return first – gift card or any other amount. It is applied only to products that have been bought using gift certificates together with cash.
Let customers add gift cards/certificates to cart without waiting for page refreshing.
Multistore support
"Through planning, efficient coding, relentless implementation, and data analysis, we have been changing the face of e-marketing", stated Robert Hadland, Sales Secret LLC representative. "Now with this Booking and Reservation extension for Magento, the game has been taken to an entirely different level."
Sales Secret offers their prospective customers six ways to ignite their sales:
Segment marketing efforts
Optimize for mobile engagement
Build relationships with customers
Localize whenever possible
Act on analytics and available metrics
Cultivate useful loyalty programs
Utilizing tools such as Magento e-commerce website development, custom Magento extension development, Magento Business Intelligence Dashboard integration, and Magento SEO services; Sales Secret has been serving their customers marketing and development needs to increase their sales and profitability.
For more information, visit http://www.salessecret.com/texas/houston-magento-developer.html or call 888 553-9113 to speak with a Houston (Texas) Magento Developer today.