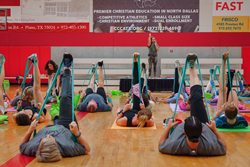 "As a surgeon, I can improve the posture of someone suffering from scoliosis, but there are many people who have unbalanced posture, with a spinal deformity." - Dr. Isador Lieberman
DALLAS (PRWEB) September 18, 2018
Texas Back Institute announces plans for the 2018 "Stretch for Scoliosis" event with the Scoliosis and Spine Tumor Center at Texas Health Presbyterian Hospital Plano. The community is invited to attend the celebration on Saturday, September 22 from 9 a.m. to noon at Plano Sports Authority at 6500 Preston Meadow Drive in Plano, Texas. The event is in support of National Scoliosis Awareness Month.
"Over the years, we've been big advocates in trying to improve posture. As a surgeon, I can improve the posture of someone suffering from scoliosis, but there are many people who have unbalanced posture, with a spinal deformity," says Dr. Isador Lieberman, medical director of Texas Health Plano Scoliosis & Spine Tumor Center, "Yoga, Pilates as well as general stretching all help with this condition and we designed this Stretch for Scoliosis program with this in mind."
Hosted by Dr. Lieberman and Dr. Blake Staub, Stretch for Scoliosis aims to encourage people of all ages and skillsets to participate and learn about the health benefits from routine stretching. This year's event includes free yoga and Pilates to increase back strength and flexibility, free scoliosis screenings, participation giveaways and an education station with Curvy Girls, a national support group for girls with scoliosis.
Attendees are asked to bring water and yoga mats. The activities will take place indoors. For more information, please visit http://www.TexasHealth.org/PlanoSpine or call 972.608.5107.
About Texas Back Institute: From its beginning in 1977, Texas Back Institute's goal is to perform as a high level multi-disciplinary, academic spine center, integrating the best of science and education with the best business practices and continues to be the backbone of TBI's success. Over 40 years later, Texas Back Institute is one of the largest freestanding multidisciplinary academic spine centers in the world and is dedicated to providing superior and innovative care for patients who suffer from back and neck pain.