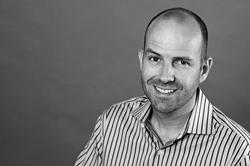 "This market is massive, the technology is ready to scale, and I'm excited to work with this talented team at Interplay Learning to build a great company," said Sam Decker.
Austin, TX (PRWEB) April 09, 2019
Interplay Learning, the leading provider of online training for skilled trades utilizing virtual reality (VR) and 3D simulations, announced today that serial entrepreneur and tech industry veteran Sam Decker has been appointed to the company's board of directors effective April 1, 2019. Decker's tech industry experience spans more than 30 years in both the Internet and Enterprise software sectors as:

Co-founder and Chairman of Fair Worlds, a leading Austin-based agency in AR/VR experiences
Founding CMO of Bazaarvoice (2005 & IPO in 2012)
Co-founder and CEO of social experiences pioneer Mass Relevance (2010) through its merger with Spredfast (2014, now Khoros)
Co-founder of digital optimization agency Clearhead (sold to Accenture in 2017)
Co-founder of Capital Factory (2009), a startup accelerator in Austin
Prior to his startup experiences, Decker led the growth of Dell's consumer online revenue to $3.5 billion in 1999 and early 2000s. In addition, he executed product marketing at several Silicon Valley startups and authored two books on word-of-mouth marketing.
"Sam built highly successful enterprise software companies and brings an exceptional depth and breadth of experience to our board," said Doug Donovan, Co-founder and CEO of Interplay Learning. "His proven leadership in product, sales and marketing, combined with experiences through all stages of a company's life cycle, will be a strategic advantage for us as we scale. In addition to the coaching on execution that Sam offers, he also appreciates what it takes to build a culture that attracts the highest-level talent and sustains growth."
"I'm privileged to join the team at Interplay Learning," stated Decker. "Their growth, vision and culture are compelling. There are three reasons I'm excited about this company. First, they are catching an erupting demand for training the next generation of the skilled labor workforce (HVAC, electricians, plumbers, etc.) with the proven effectiveness of 3D and Virtual Reality (VR) simulations. Second, to scale training content, the team spent two years building a revolutionary technology to build immersive instructional simulations at 1/10 the cost of traditional VR content development. Finally, they've built an enterprise SaaS learning platform to accelerate and administer training adoption for several industries. This market is massive, the technology is ready to scale, and I'm excited to work with this talented team at Interplay Learning to build a great company," he concluded.
About Interplay Learning
Austin, Texas-based Interplay Learning is a software company that develops and delivers scalable and effective training for the skilled mechanical, electrical and industrial workforce, using Virtual Reality and 3D simulation. With expertise developed over the past 8 years in simulation training in the HVAC, Electrical, Energy Auditing, Solar Install, Manufacturing, and Construction Codes industries, Interplay offers both off-the-shelf and custom simulation experiences to solve difficult workforce training challenges. Interplay Learning was named to the latest Inc. 5000 list, which ranks the top fastest-growing private companies in the United States. Visit https://www.interplaylearning.com/ to learn more.
Media Contact
Ria Romano
RPR Public Relations, Inc.
Tel. 786-290-6413