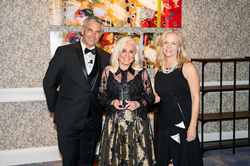 I may not be descended from the Simons or the Schusters of the world, but I am from Texas, and there is a lot to be said for that can-do Texas spirit. - Milli Brown
DALLAS (PRWEB) October 01, 2019
Milli Brown, CEO of Brown Books Publishing Group, was named the 2019 Ambassador of the Year at the YTexas ReLO Awards at the Ritz-Carlton in Dallas on September 27, 2019. YTexas aims to provide custom solutions to corporations relocating to Texas by personalizing services based upon individual company circumstances. The ReLO Awards Gala invites those companies who have moved to Texas to engage and share stories with others about their transitions.
Each year, one Texas-based CEO who has shown great dedication to the mission of YTexas is awarded Ambassador of the Year. As a testament to her love of Texas and devotion to helping businesses thrive, Milli Brown, a member of YTexas since its beginning, was selected as this year's award recipient.
"If you take publishing and you take Texas and you put them together, you get Milli," said Thomas Reale, President and COO of Brown Books Publishing Group. "As a leader in an organization, she has a heart that is as big as the state of Texas."
In her acceptance speech, Milli Brown thanked all of her authors, including YTexas CEO, Ed Curtis, for believing in her revolutionary publishing model.
"Book by book, author by author, I am now the second fastest-growing independent publisher in the country," Brown said during her speech. "Tonight, I want to accept this honor on behalf of all my authors who took a chance on me throughout the years."
Everyone in attendance received a copy of Ed Curtis's new book, Why Texas: How Business Discovered the Lone Star State, which will be releasing on November 5, 2019, from Brown Books Publishing Group.
"I want to establish Dallas as the capitol of entrepreneurial publishing," Brown said. "I may not be descended from the Simons or the Schusters of the world, but I am from Texas, and there is a lot to be said for that can-do Texas spirit."