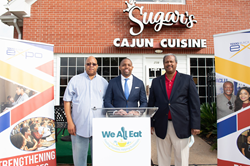 It's an honor to be recognized among so many innovative ideas, and we're thankful for the opportunity to bring awareness to our cause as we move beyond the COVID-19 pandemic
HOUSTON (PRWEB) May 04, 2021
Texas Black Expo, a nonprofit and economic development organization that empowers at-risk businesses and youth, today announced it was named as an Honorable Mention in Fast Company's 2021 World Changing Ideas Awards. The organization's We All Eat program, which launched last year in response to the pandemic, was recognized among businesses, policies, projects, and concepts that are actively engaged and deeply committed to pursuing innovation when it comes to solving health and climate crises, social injustice, or economic inequality.
We All Eat is a two-fold initiative to combat food insecurity and help local restaurants generate revenue. Individuals with limited or uncertain access to adequate food can get free to-go meals from local restaurants. Selected restaurants are reimbursed through the program for each meal served to participants. We All Eat kicked off in Fort Bend County, Texas and has served almost half a million meals since its inception. Texas Black Expo also developed a customized all-in-one digital platform to streamline the application and meal ordering process for restaurants and residents.
"It's an honor to be recognized among so many innovative ideas, and we're thankful for the opportunity to bring awareness to our cause as we move beyond the COVID-19 pandemic," says Jerome D. Love, founder and president of Texas Black Expo. "Our goal is to serve a million meals to people across America while helping to reduce food insecurity and supporting small businesses."
Now in its fifth year, the World Changing Ideas Awards showcase 33 winners, more than 400 finalists, and more than 800 honorable mentions—with Health and Wellness, AI & Data among the most popular categories. A panel of eminent Fast Company editors and reporters selected winners and finalists from a pool of more than 4,000 entries across transportation, education, food, politics, technology, and more. Plus, several new categories were added, including Pandemic Response, Urban Design, and Architecture. The 2021 awards feature entries from across the globe, from Brazil to Denmark to Vietnam.
Showcasing some of the world's most inventive entrepreneurs and companies tackling exigent global challenges, Fast Company's Summer 2021 issue (on newsstands May 10) highlights, among others, a lifesaving bassinet; the world's largest carbon sink, thanks to carbon-eating concrete; 3D-printed schools; an at-home COVID-19 testing kit; a mobile voting app; and the world's cleanest milk.
"There is no question our society and planet are facing deeply troubling times. So, it's important to recognize organizations that are using their ingenuity, impact, design, scalability, and passion to solve these problems," says Stephanie Mehta, editor-in-chief of Fast Company. "Our journalists, under the leadership of senior editor Morgan Clendaniel, have discovered some of the most groundbreaking projects that have launched since the start of 2020."
About the World Changing Ideas Awards
World Changing Ideas is one of Fast Company's major annual awards programs and is focused on social good, seeking to elevate finished products and brave concepts that make the world better. A panel of judges from across sectors choose winners, finalists, and honorable mentions based on feasibility and the potential for impact. With the goals of awarding ingenuity and fostering innovation, Fast Company draws attention to ideas with great potential and helps them expand their reach to inspire more people to start working on solving the problems that affect us all.
About Texas Black Expo and We All Eat
Texas Black Expo, Inc. (TBE) is a nonprofit and economic development organization that empowers at-risk businesses and youth by providing entrepreneurial and educational opportunities. Known for its annual tradeshow and festival, TBE also delivers year-round community programs and events that connect Texas corporations with the local communities they serve. In October 2020, the organization launched the We All Eat program to combat food insecurity and help local restaurants generate revenue to stay afloat during the pandemic. TBE was founded in 2007 by Jerome D. Love and Shannon Cormier, Ph.D. For more information about the organization, visit TexasBlackExpo.com. To learn more about the program, visit WeAllEatTexas.com.