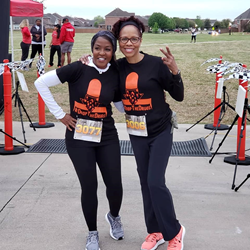 Medications are the leading cause of poisoning deaths in children. (SafeKids.org)
GRAND PRAIRIE, Texas (PRWEB) April 19, 2019
During the past three decades, Dr. Monica "mOe" Anderson has written 100's of prescriptions for patients experiencing pain and she underwent two major surgeries to remove malignant tumors. She seems like the least likely person to start a campaign encouraging everyone to toss out their unused drugs, but that's exactly what Dr. Anderson is doing. In September 2018, this Texas dentist joined the American Dental Association's Institute for Diversity in Leadership program. As part of the yearlong instructional course, each member is tasked with designing and implementing a community service project. While researching ideas around opioid addiction prevention, she read some surprising facts.

Medications are the leading cause of poisoning deaths in children. (Safekids.org)
On average, 174 people a day die from drug overdoses. (Addiction Policy Forum)
Two thirds of teenagers who report abusing drugs obtained them from the medicine cabinets of neighbors or relatives, including grandparents. (Drugfree.org)
Traces of hormones, antibiotics, anti-depressants…and other chemicals thrown in the trash or flushed down drains have been detected in our drinking water. (PreventRXAbuse.org)
The mother of two and grandmother of three knew she had to get involved. "I was seeking a grassroots approach to fighting the opioid addiction epidemic in my community, but I realized we have a much bigger problem which is abuse and misuse of all drugs. The impact of using prescription and over the counter medications (OTC) for nonmedical purposes is often omitted in the conversation around this public health crisis." She began fact gathering from experts in the field: physicians, law enforcement, the Drug Enforcement Agency (DEA), the Environmental Protection Agency (EPA), and the Food and Drug Administration (FDA). "Immediately, it struck me that we must warn consumers to limit access to all their medications by storing them in secure, preferably locked cabinets." Carol Landrum, an RN with twenty-two years of experience warns that parents, in particular, should take precautions because "All drugs can harm or kill you, when used improperly."
Dr. Anderson invited Landrum and several other healthcare providers to her home for an intense whiteboard, brainstorming session and the community awareness program named #DropTheDrugs was created. The top three strategic objectives of the campaign are: prevent poisoning/overdose, prevent addiction, and protect the environment. The team created an educational handout with practical tips on safe storage and disposal of unused medication. Ultimately, they hope providers and pharmacists will provide medication safety instructions when they write prescriptions or dispense drugs.
Research studies have resulted in major changes in prescribing practices but pain management is not a precise science because pain is subjective, Dr. Anderson explained. Patients may need more or less than the recommended amount. When drugs are unused or expired, they should be disposed of immediately at the nearest approved drop off location, not saved or given to others for self-medication. Many consumers and health care workers don't know they can dispose of unneeded drugs year-round. Communities throughout the country have authorized permanent collection units in local retail pharmacies, hospitals, and police departments.
The Grand Prairie Police Department had the first medication disposal program in the Dallas Fort Worth Metroplex, according to the city's Police Chief, Steve Dye. Dr. Anderson recently spoke about the project before city leaders including the Mayor of Grand Prairie, Ron Jensen, who emphasized, "The safe storage and disposal of drugs is always an important message. Grand Prairie residents may take their outdated and unused drugs, over-the-counter medications, vitamins and pet medications to our Police Department. We have a prescription drug drop-off box in the lobby." The service is free and anonymous; no questions asked.
In addition to these ongoing drop-off sites, the Drug Enforcement Agency has well-known, national DEA Take-Back Days in April and October. "Twice a year, the DEA invites you to dispose of unwanted and unused prescription drugs at locations across the U.S.", said Special Agent in Charge of the Drug Enforcement Administration Clyde E. Shelley, Jr. "Please join us in our continued mission to diffuse the curiosity of drugs. It's the right choice to make and will give people a piece of mind that prescription drugs are destroyed in an environmentally safe manner." Find the nearest drop off location by using the DEA's national online search tool.
All drugs returned to authorized locations are collected and destroyed immediately. Drugs should never be thrown in the trash where they may poison curious pets or leach into the ground water. Flushed drugs can contaminate our water sources, as well, according to numerous studies. The Environmental Protection Agency also encourages the public to participate in take-back events as the best option for disposal.
Dr. Anderson said, "The success of this ongoing substance abuse prevention campaign is largely dependent on inter-organizational collaboration between local governments, police departments, sheriffs' offices, policy makers, and health care teams. We are educating the public to increase awareness of existing resources and complement the strategies our drug use prevention partners have employed to combat this critical issue."
For more information or to download a free copy of Drop The Drugs addiction prevention handout: visit FB/Drop The Drugs and Twitter/DropTheDrugsUSA. Website coming soon http://www.dropthedrugs.org!
About #DropTheDrugs
#DropTheDrugs is an awareness campaign educating consumers to securely store all needed medications and promptly dispose of unused or expired medications by means of permanent authorized drop-off locations or mail-back programs. We advocate for interprofessional collaboration to combat the public health crisis of substance abuse and misuse.