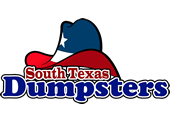 SAN ANTONIO (PRWEB) September 14, 2020
Texas Dumpsters group announced today that it has acquired Krippco Disposal. Krippco Disposal is a roll off dumpster rental company based in New Braunfels, TX. The Krippco Disposal acquisition is Texas Dumpsters fifth and largest acquisition to date.
"This acquisition of roll off trucks, dumpsters and customers from Krippco Disposal will help us increase our South Texas footprint spreading into the Austin market. In addition to roll off dumpsters, we also offer portable sanitation rentals and other complimentary services used by our new customer base," said Marc Segel, President of Texas Dumpsters.
"We are confident that by leveraging our proprietary technology and service mentality we will improve the overall customer experience. South Texas Dumpsters will become the single point of contact for site services to our new, predominantly commercial, customer base," said Samuel Delarosa, operations director for Texas Dumpsters.
A roll-off dumpster is an open top container that is delivered to a job site and utilized to transport debris to landfills or recycling centers.
For more information on the services offered, please visit: https://www.southtexasdumpsters.com/
About Texas Dumpsters
Texas Dumpsters operates a fleet of over 50 roll off and portable sanitation trucks throughout the state. Texas Dumpsters has provided site service rentals to over 6400 customers over the past 12 months spanning across the residential, commercial, industrial, renewable energy and civil construction industries.
About Krippco Disposal
Krippco Disposal has been in business for over a decade and has a loyal, repetitive customer base. Krippco Disposal has been servicing New Braunfels, Canyon Lake, San Antonio, Kerrville, Boerne, Pleasanton and the surrounding areas.
Krippco Disposal will be integrated and rebranded as part of Texas Dumpsters group of companies. The existing local facility in China Grove will be utilized to service the new group of customers. All existing pricing and agreement will be honored to allow for a seamless, uninterrupted customer experience. As part of the integration, all key Krippco Disposal customer service support staff have joined the Texas Dumpsters team.