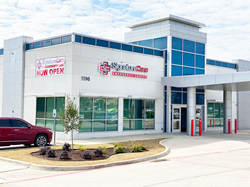 Viruses and bacteria are typically transmitted via respiratory droplets where they can be inhaled, touched, and subsequently ingested. They can also be transmitted via any mucosal barrier including the eyes and nose.
HOUSTON (PRWEB) October 08, 2020
Even though coronavirus and Influenza (the flu) are both respiratory viruses, Dr. Ruby Rose, a board-certified emergency room physician with Houston, TX based SignatureCare Emergency Center, said it is important for Texans to know there are differences.
Dr. Rose said that knowing those differences could help Texas families survive COVID-19 as we head into the upcoming flu season.
She stated that while the Centers for Disease Control and Prevention (CDC) have estimated the annual death tolls due to influenza since 2010 to be between 12,000 and 61,000, with hospitalizations reaching 800,000, the situation is expected to worsen this year with coronavirus as an additional threat.
"While most patients who contract influenza or SARS-COV-2 (the virus that causes COVID-19) will recover without serious complications, some can progress to serious illness(es), hospitalization, or death," Dr. Rose said.
She has created a downloadable flu/coronavirus handy guide to help Texas families understand the similarities and differences between coronavirus and Influenza.
In the guide, she pointed out that Influenza (the flu) and coronavirus are both contagious respiratory viruses and cause similar symptoms, "however, coronavirus can cause additional symptoms that are specific to the SARS-COV-2 virus such as the loss of taste and smell, among others. "
"Coronavirus has also proven to be more contagious and deadly," she added.
Dr. Rose said that "The elderly (65 years or older), people with underlying medical conditions such as heart and vascular disease, obesity, chronic lung and kidney disease, diabetes, and anyone immunocompromised or taking a medication that lowers the normal immune response, are at higher risk this flu season."
She added that "Certain populations including Black, Indigenous, Latin, and other people of color; people with poor access to healthcare or are homeless; and people with disabilities, could also see higher incidences this year due to coronavirus."
Dr. Rose advised families worried about contracting the flu and coronavirus to strictly follow CDC guidelines including getting vaccinated for the flu, social distancing, wearing a mask, washing their hands frequently, and quarantining when sick.
"Currently, there is no FDA approved vaccine for coronavirus. There is one for the flu that is currently strongly encouraged for people to take. The CDC recommends all people 6 months and older to receive a flu vaccination. This includes pregnant women and people with chronic health conditions.
"There are various forms of the flu vaccine, so speak to your medical provider about which type is best suited for you. People who have a severe egg allergy or a history of Guillain Barre´ Syndrome (GBS) should not receive the flu vaccine," she said.
"Viruses and bacteria are typically transmitted via respiratory droplets where they can be inhaled, touched, and subsequently ingested. They can also be transmitted via any mucosal barrier including the eyes and nose. We are still learning about the nature of transmission for the SARS-COV-2 virus so adhering to the basics will keep everyone safe," she added.
Dr. Rose encouraged Texans to learn to properly manage stress as a way to lower their chances of falling sick.
"Several studies have shown that people with elevated levels of stress have a 3-4 times higher chance of catching a cold.
Stress can lead to insomnia which can also hinder the immune system's ability to respond to pathogens," she said.
Saying that while most cases of the common cold, flu, and coronavirus can be managed at home, Dr. Rose encouraged anyone with worsening conditions to seek emergency medical care.
"Seek medical care or emergency care when you feel profound fatigue, dizziness, worrisome pain, shortness of breath, or are not comfortable managing symptoms at home.
"Seek care if you are immunocompromised in any way or have a chronic medical condition in which the flu or coronavirus could worsen. If you would like to take an antiviral medication, you can make an appointment with your primary care provider or go to your nearest SignatureCare Emergency Center," she added.
About SignatureCare Emergency Center
SignatureCare Emergency Center owns and manages the fastest growing group of 24-hour emergency rooms throughout Texas. We currently have ERs in Houston (Houston Heights, Montrose, Copperfield, Memorial City, Westchase, Bellaire, Mission Bend/Sugar Land, and Cypress/FM 1960), Stafford, Killeen, Pflugerville, Lewisville, Austin, College Station, Midland, Paris, Odessa and Texarkana.
Our newest emergency room location in Atascocita, Humble, TX is due to open in the next few weeks.
Go to our website, ercare24.com for more information.