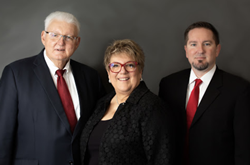 ANGLETON, Texas (PRWEB) September 20, 2021

Kris Hufstetler was born and raised in Houston, Texas, and even sought his education throughout the Lone Star State, graduating with a Bachelor of Science in Psychology from the University of Houston and his Juris Doctor from St. Mary's University School of Law. During law school, he was selected as an Intern for Judge Henry J. Bemporad of the United States District Court for the Western District of Texas, Justice Marialyn Barnard of the Texas Fourth Court of Appeals, and Justice Eva M. Guzman of the Texas Supreme Court.
Prior to joining Terry & Roberts, Hufstetler was the founder and attorney at Legacy Group where he focused on assisting clients with family law matters. In the past, has also represented clients in personal injury claims. He was selected by his peers for inclusion as a Texas Super Lawyers Rising Star in family law in 2021.
Hufstetler's passion and dedication to clients allow him to succeed both in and out of the courtroom. He's been quoted as saying, "Family law gives me the opportunity to protect people who otherwise may not be protected and to speak on behalf of people who may not be able to speak for themselves. In my mind, there is nothing more rewarding than being afforded the opportunity to help people protect and care for the most important pieces of their lives."
By welcoming Kris Hufstetler and his exceptional skills to the firm, Terry & Roberts feels confident that he will have a positive impact on its clients and their needs. Simply put, he cares about what he does which makes him a true asset.
About Terry & Roberts
The family law attorneys of Terry & Roberts are premier lawyers serving the great Brazoria County, Texas area.
The professional and experienced legal team that calls this firm home offers a wide range of services. These include, but are not limited to, cases that involve: divorce, child support, premarital agreements, domestic abuse, protective orders, grandparent rights, child custody, adoption, paternity, modifications, and CPS defense.
Learn more about Terry & Roberts by visiting http://www.terryandrobertslaw.com, by calling (979) 849-4387, or scheduling an appointment to meet in person at their office located at:
203 East Cedar
Angleton, TX 77515