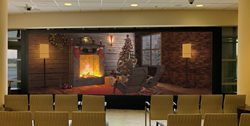 The video walls and content have certainly been a key contributor in creating a calmer, more inviting atmosphere for patients, families and hospital staff members.
LUBBOCK, Texas (PRWEB) March 18, 2020
Render Impact was commissioned to create dynamic, evolving content for the Covenant Medical Center in Lubbock, TX as part of a new immersive and therapeutic digital experience in their Adult Emergency Department.
The visual transformation of the Emergency Department waiting room was designed to help reduce perceived wait times and increase patient satisfaction in an area that is typically associated with stress and anxiety. "The main goal for Covenant was simple: to enhance the overall patient experience by providing a comforting and serene space while waiting for care," said Walt Cathey, CEO of Covenant Medical Center.
The AV Design and Integration was led by the Professional Services and Design Team at Lubbock Audio Visual, Inc. In order to bring Covenant's vision to life, they designed two different size video walls for the Adult Emergency Department waiting room. The larger of the two was a 15-screen media wall in a 5x3 configuration with landscape-mounted displays and native resolution of 9600x3240 pixels. The other was a 4-screen media wall in a 4x1 configuration with portrait-mounted displays and native resolution of 4320x1920 pixels.
The content planning and strategy was a collaborative effort involving all stakeholders and guided by the Render Impact team. The goal was to produce a variety of content including historical footage, health trivia, computer-generated (CG) digital art, long-form video stories, branding and seamlessly-loopable, custom CG content. "One question we asked ourselves again and again during the production was: Can your eyes get lost in this scene? We wanted to make calming videos that pull viewers in a little deeper. Something that expands that needed distraction at a tense time," added Dan Maher, Production Manager at Render Impact.
Some of the current video wall content includes a custom CG waterfall, American flag, night sky, eagle flying, health-related trivia, nature scenes, 3D animations incorporating success stories, brand and mission values, and a timeline video celebrating 100 years of Covenant's history. A few content pieces, such as the CG night sky and waterfall, were developed to loop seamlessly so they can be enjoyed for longer periods of time before the next scene appears on the video wall.
A few weeks after the ribbon-cutting ceremony, the Covenant Adult Emergency Department personnel stated, "The immersive and therapeutic digital experience that is now engaging patients and their families is helping to lessen the stress during hospital visits. The video walls and content have certainly been a key contributor in creating a calmer, more inviting atmosphere for patients, families and hospital staff members."
Render Impact will continue to develop new content for the video walls in order to build a larger library of content and keep it fresh. Here is a link to view some of the current video wall content - https://vimeo.com/showcase/6745080
Render Impact helps businesses and brands engage their target audiences with powerful multimedia content customized for the location of their digital signage displays and desired effect. Render Impact takes a collaborative approach to each project and prides themselves on high quality design and top-notch service. No project is too large or too small for Render Impact and the same can be said about the screens on which the content is displayed. Learn more at https://renderimpact.com/
Covenant Health has served for more than 100 years as the only faith-based, clinically integrated health network in the West Texas, eastern New Mexico region providing a Christian healing ministry. Covenant's network includes seven hospitals, more than 1,000 licensed beds, more than 6,000 caregivers, nearly 100 primary care providers, and a medical staff of more than 600 physicians at its cornerstone facilities. Learn more at https://www.covenanthealth.org/