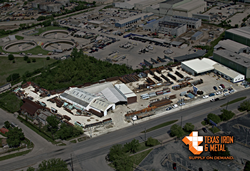 The major change that Texas Iron & Metal has undergone since its founding was shifting the business away from scrap metal and increasing our stake in surplus steel, or what we call Less-Than-Prime© material.
HOUSTON (PRWEB) November 12, 2019
The story behind Houston's first salvage yard is the ultimate tale of coming-to-America success. Texas Iron & Metal started small in the back of a Chevrolet pick-up truck and transformed through hard work into a successful business serving customers across the U.S. Over the past eight decades, the company has been passed down to generations of founder Max Moore's descendants.
In 1923, Moore, a 31-year-old immigrant from a village near Warsaw, Poland, borrowed money from his father to buy a steerage-class ticket to travel to the U.S. After arriving at the Port of New Orleans and traveling directly to Houston, Moore worked for 10 months at the Southern Pacific Railroad shops so that he could pay his father back and save money for his wife Florence and young son Abraham Isaac (JoJo) to join him. But there was always a deeper longing within him to own a business and achieve the American Dream.
"My father's first independent venture was working as a fruit peddler," said Evelyn Moore Reichenthal, Moore's daughter. "Because he didn't speak English yet, he would follow behind other fruit peddlers and repeat what they called out to customers to help sell their products. Later, during the Great Depression, he traded various items for food. He would often disappear into the country with battery parts, for example, and come back home with a chicken."
It wasn't until the late 1920s that Moore started buying and selling scrap metal from the back of his truck as another means to provide for his family.
"I remember holding sacks open for him as he would load the scrap inside," said Evelyn Moore Reichenthal. "He always told me to go in the house because I didn't need to do this type of work. But I always responded defiantly, 'Daddy, if it's okay for you to do it then it's good enough for me.' That's the sort of attitude he would take himself. He was a very hard worker and never asked anyone to undertake any task he wouldn't do personally."
Moore soon acquired a reputation as a reliable source of usable steel for commercial and industrial buyers. By 1939, his business had grown to the extent that Texas Iron & Metal officially opened its doors at its first brick-and-mortar location; however, a few years later, World War II put Moore's business to the test.
During that time, most steel was used to manufacture products to support the war effort. As a result, the U.S. experienced extreme shortages of readily available steel. Moore's business savvy not only helped Texas Iron & Metal survive the turbulent period and thrive, but it also helped a nation in need. With an eagerness to contribute to his adopted country, Moore—along with other members of Houston's scrap metal community—donated the first carload of scrap to a steel mill that made products to build ships and armaments for the U.S. Navy.
Since then, two generations have carried on Moore's legacy. In 1954, son-in-law Sidney Reichenthal and Moore's sons JoJo and Alex became co-owners. They oversaw the opening of Texas Iron & Metal's new location at 865 Lockwood Drive, where it still operates today. In 1983, Moore's grandson and Sidney's son Max Reichenthal joined the company. He has served as the owner and president since 1989.
"The major change that Texas Iron & Metal has undergone since its founding was shifting the business away from scrap metal and increasing our stake in surplus steel, or what we call Less-Than-Prime© material," said Max Reichenthal. "This is the term we use for any type of material that is not in good enough condition to be sold among our prime-quality steel and pipe. It could be an unusual size, rusty, pitted, damaged or miscut, but in many cases it appears clean and good quality—there's just no mill test report available. It's great for our customers who don't necessarily need prime quality and just want a competitive price. We give our customers the opportunity to acquire the right material for their application and budget."
Today, Texas Iron & Metal occupies 120,000 square feet of yard, warehouse and office space on 10 acres—the result of a recent acquisition of land next door to 865 Lockwood Drive. During this expansion, the property was updated to increase storage and provide more space for on-site services for customers, such as flame cutting, saw cutting, shearing and other metal working. From this location, the company houses its vast inventory of Prime and Less-Than-Prime© steel and pipe, as well as surplus equipment such as worktables, ladders, stairs, fans, conveyors and sawhorses.
In the last 80 years Texas Iron & Metal may have grown and evolved, but the values instilled by Moore—strong work ethic, outstanding service, and active participation within the community—remain. In honor of the company's 80th anniversary and his grandfather's commitment to charitable giving, Reichenthal plans to support causes benefiting Houston-area children, including:

Back to School Backpack Giveaway hosted by Vice Mayor Davis, which will provide classroom supplies to underprivileged children in Houston's Council District B.
oktoBrew Neighborhood Block Party, which raises funds for students' after-school programs in Council District B.
Making It Better, a non-profit that teaches at-risk children to read at their grade level.
"Being part of a business that has been passed down three generations is a great responsibility. You want to safeguard what those who came before you worked so hard to establish and improve upon the business where it makes sense. When my father turned the company over to me, he said, 'I'm giving you a good business. Make it better,'" said Reichenthal. "I'm proud to carry on my grandfather's and my father's legacy. One day, I would like to be able to pass the business on to my children."
Texas Iron & Metal's success over the years goes beyond their ability to get customers the product they want, when they need it.
"We not only treat our customers well, but we also treat our vendors and employees with respect," said Matt Reichenthal, who handles special purchasing and sales for Texas Iron & Metal. "There's a family environment that extends to our whole team and customer base. We strive to be a place where everyone enjoys coming to work or interacting with our company."
As Texas Iron & Metal celebrates this milestone in its history, it's clear that the American Dream is still very much alive.
About Texas Iron & Metal
Texas Iron & Metal provides the Houston metropolitan area with a diverse inventory of Prime and Less-Than-Prime© steel and pipe. Types of material stocked include carbon, alloy, stainless steel and aluminum. Texas Iron & Metal has been a member of the Better Business Bureau since 2009 and has consistently received an A+ rating from the organization. The company is located at 865 Lockwood Drive, Houston, Texas 77020. Customers can reach a representative at Texas Iron & Metal by calling 713.672.7595 or 800.839.4766, sending an email to sales@texasironandmetal.com, or using the contact form on the company's website, http://www.texasironandmetal.com.